Fitness
Southern Utahns shake up their fitness routine at f45 Training – St George News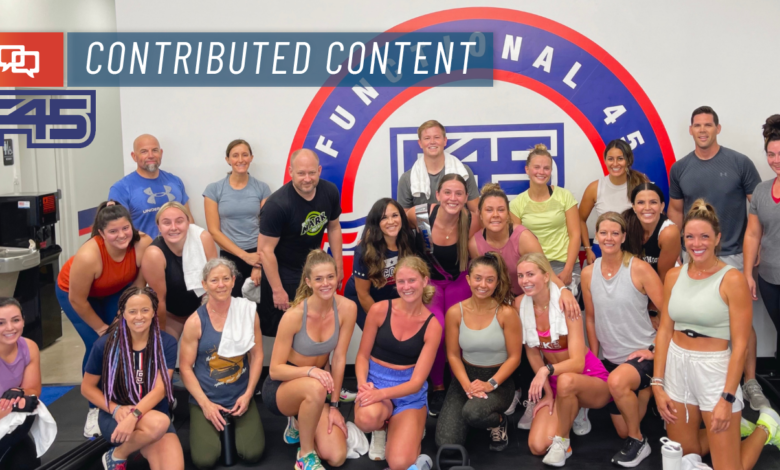 CONTRIBUTED CONTENT — When BJ and Nicole Hoaldridge moved to St. George in 2018, they were looking for a change. BJ Hoaldridge had endured several back surgeries, and despite significant weight loss, he now needed a new hip. Nicole Hoaldridge wanted to stay busy and connect with the community. F45 Training quickly became the answer they were looking for.  
F45 is a fitness franchise that started in Australia in 2012 and has since spread worldwide. Using an innovative combination of HIIT, weight training and technology, F45 provides functional, full-body workouts in 45 minutes.  
The Hoaldridges opened St. George's first F45 studio in the Dino Crossing plaza in March 2020 – and closed it a week later.
"The pandemic hit us hard, just like all businesses," BJ Hoaldridge said. "But we could tell by the response that people were looking for something like this."
And when F45 opened back up in May 2020, he said they "instantly had a gym full of people."  
In October 2020, the couple and their business partner opened a second F45 location on Brigham Road in St. George. Since then, Hoaldridge has had his hip replaced and continues to lose weight.
"At my heaviest, I was 375 pounds," he said. "It was hard to move my body. Now I can jump and lift heavy weight, and I eat more than I used to!"  
F45 has grown quickly because it is both time-efficient and effective.
"We offer a free, seven-day trial," Hoaldridge said. "That allows people to get a feel for what F45 is and how it works."
They don't require a credit card, so there are no strings attached.  
At F45, the workouts are different every day and can be modified for any body size or age. Participants do each exercise for a short interval, so there's less risk of overuse injuries. Workouts are designed from a database of over 13,000 movements, making each day different.  
"We have college athletes working alongside members in their 70s," Nicole Hoaldridge said. 
Classes follow a group training format and are led by one or two personal trainers, known as coaches. A HIIT session on Monday is followed by a strength day on Tuesday and then cardio on Wednesday. The variability eliminates boredom, and the variety is  consistently challenging.  
Members love the community at F45 – and the fact that there aren't any mirrors in the room.
"I love not watching myself exercise," member Shelise Thompson said. "I can focus on the workout and not be self-conscious."  
Another member, Jared West, agreed.
"I love being part of the F45 family," he said. "The coaches are phenomenal, the energy is positive and the workout is great, regardless of your skill level or knowledge."  
In addition to daily classes, F45 hosts eight-week lifestyle challenges throughout the year. The next challenge begins Jan. 31 and runs through March 26. Challenges are available for F45 members or nonmembers and include nutritional support, personal goals and guidance from the F45 coaches.  
As owners, the Hoaldridges don't require members to sign a contract.
"Our memberships are month-to-month," BJ Hoaldridge said. "We want members to be here because they love it, not because they're hostage to a contract."
So how many members stick around for the long-term? "Most," Nicole Hoaldridge said. "A large percentage of our members have been with us since the beginning."
In fact, Kristen Nelson, their current business partner, originally started as an F45 member, then worked as a coach and now runs the Brigham Road location. Nelson is a certified personal trainer and is currently finishing her master's degree in exercise physiology and sports nutrition.
"I've been in fitness for a long time, and F45 checks all the boxes," she said. "But what makes it unique is the community. People show up a bit intimidated, but after a class or two, they are all cheering each other on."  
BJ Hoaldridge concurred.
"If a guy with a bad back and a hip replacement can do this, anyone can," he said. "People love F45 because it works."
• S P O N S O R E D  C O N T E N T • 
Resources
f45 St. George  | Address: 446 S. Mall Drive, St. George or

922 E. Brigham Road, St. George

| Telephone: 435-375-8180 | Website.
Copyright St. George News, SaintGeorgeUtah.com LLC, 2022, all rights reserved.