Sports
Week 16 Injury Report (Chiefs)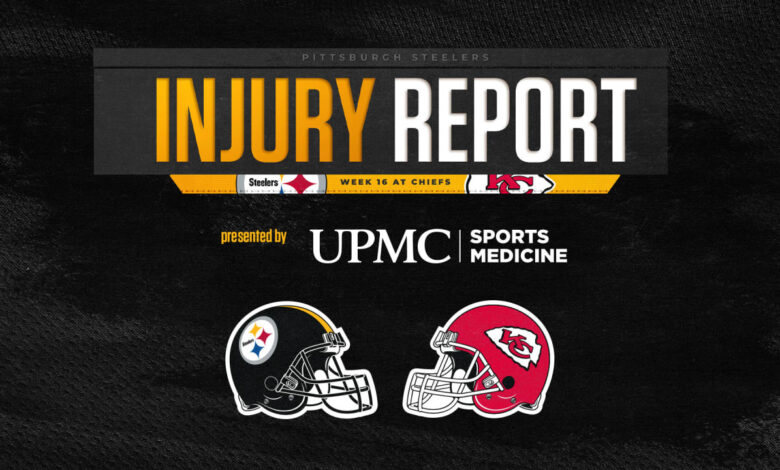 The Steelers continued their preparation as they get ready to take on the Kansas City Chiefs this week.
Tight end Pat Freiermuth didn't practice for the second straight day, still in the concussion protocol after being injured against the Tennessee Titans on Sunday. Tight end Kevin Rader was a full participant for the second straight day, good news after he missed the Titans game with a hip injury.
"Kevin's a guy that's been just kind of waiting his turn for a long time and he's been consistent and he's physical and he knows what to do," said quarterback Ben Roethlisberger. "He knows the offense very well."
Defensive lineman Chris Wormley didn't practice again on Thursday, missing his second straight day after suffering a groin injury against the Titans.
Quarterback Ben Roethlisberger (pectoral/right shoulder) was limited on Thursday after being a full participant on Wednesday.
New to the injury report was tackle Dan Moore Jr., who was limited with an illness.
Linebacker Buddy Johnson (foot) was a full participant, as was cornerback Joe Haden, who didn't practice on Wednesday simply because of a coach's decision.
The Steelers placed two more players on the Reserve/COVID-19 List on Thursday, defensive lineman Isaiah Buggs and running back Anthony McFarland Jr.
Related news: Offensive lineman Kevin Dotson returned to practice on Wednesday, giving the Steelers a 21-day window to activate him from the Reserve/Injured list to the 53-man roster, or he would have to sit out the remainder of the season. Dotson was originally placed on the Reserve/Injured List on Nov. 20.
The Steelers placed, linebacker Devin Bush, offensive tackle Zach Banner and linebacker Marcus Allen on the Reserve/COVID-19 List on Wednesday as well. Bush has started all 13 games he played in this season, while Banner has played in six games in 2021 and Allen has played in 14 games this season.
Also on the Reserve/COVID-19 List is defensive lineman Montravius Adams.
Source link