Entertainment
The tale of Litchfield's Christmas lights | Entertainment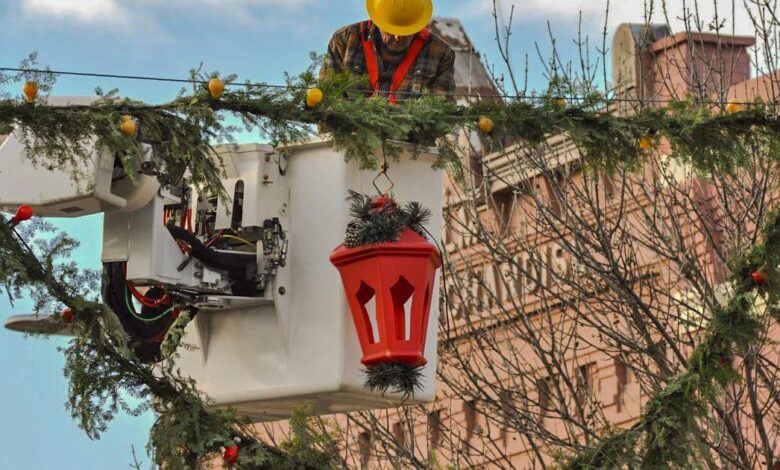 My wife was driving the two of us to Minneapolis from Willmar on a cold December day, and I was napping in the passenger seat. I woke up as we entered a town, sat up, and I knew immediately we were in Litchfield because of one reason: The distinctive Christmas decorations.
For as long as I can remember, Litchfield has had the same unique Christmas decorations. My wife calls them "The Glasses" and some people have said they look like an upside-down strapless bra, but most people think they just look like a pair of glasses.
"Litchfield's Spectacles" are what some out-of-towners have enviously called them. But through my extensive traveling all over the state during my rock and roll dance playing years, I can say that, without a doubt, Litchfield's Christmas decorations are the best in the state. How can you compare what Litchfield has with another town's little wreath or candy cane stuck on a street light post? I can't remember a time when Litchfield didn't have the decorations, but, of course, there was a time. Do you know the history behind those decorations?
In the early 1910s, a big municipal Christmas tree was put up in the middle of the "railroad park" at the southeast corner of Depot Street and Sibley Avenue where the Burger King was. It was only lit for two hours each night. A couple of years later, the tree was put in the middle of the intersection at Sibley Avenue North and Depot Street. Obviously, when the number of cars in town increased, that tradition had to be stopped.
Victor Adolph "Vic" Sederstrom, who had a realty and insurance business in town at 213 Sibley Ave. N. with his brother Vern, started putting the famous hanging decorations up in 1935. Vic, his wife, Anna, and their 4-year-old son, Loren, were driving out to California for Christmas in 1934, and they passed through a town called Fremont, Nebraska. Fremont had decorated their little town so beautifully that Vic was extremely impressed and a little jealous. He said to his wife, "Litchfield should do that too." His son Loren said that was all Vic talked about the rest of the way out to California and on the drive back home.
Vic got funding from the Commercial Club, (like the Chamber of Commerce today), and he started the tradition. For years he had to do most of the work himself. He would work on making the garland strings in the alley behind his realty business. At first, he got help putting up decorations by going to John L. Benson and Newel C. Nelson's pool hall nearby on Second Street East and asking for help. He "paid" his helpers with a glass of beer and a bag of the Christmas candy that he also bagged up for the annual children's Christmas program he had organized. It's no wonder that people started calling Vic "Mr. Christmas."
"Those first decorations were simple and plain compared to how they are today," Anna Sederstrom, Vic's wife, said in 1985. Eventually, Vic, Loren, Vern, and Chet Berg were the usual workers, and finally the city street department took over the job.
Then Walter H. Wogenson, who ran the seed house at 221 Ramsey Ave. N., and night policeman Wilton B. "Tiny" Fredrickson took over putting the decorations together and putting them up. They built a two-wheeled cart and clamped two big ladders onto it, one above the other. They dubbed it "Charlie Pollequin's ladder." (I don't know what that meant.) Tiny pulled it down the street behind his 1937 Allis Chalmers tractor, and they clambered up to attach the "glasses" to the light poles. Tiny was 6-foot, 2-inches and way over 300 pounds, so it was quite a sight for people to see this immense man high up on a ladder hanging Christmas decorations.
Mae Fransein of Fransein's Café, and Julia Larson of the hotel's Colonial Café, told the men that they could eat free in their restaurants for as long as it took to get the job done. The next year a "bill" was put on the local ballot to appropriate tax dollars for the job. It won overwhelmingly and the City of Litchfield and Public Utilities currently own, operate, and pay all the costs related to the decorations. At least nine men work for two or three days using three city utility trucks to put up both the garlands and the park decorations.
Larry Dahl, a city employee and former City Council member, said that when the decorations come down each year, the citizens go into a two- or three-day depression. Year after year, the depression appears without exception. There may be magic in those beautiful Christmas lights after all. Imagine the depression the whole town went into in 1942 when the government asked them to not put up the lights at all to conserve energy during the war.
There's about 27 of those garland strings around town, each with seventy-two bulbs. Laid out, they are almost three-fourths of a mile long. Where do the garland strings come from? A nursery in Zimmerman has been the supplier for the past quarter of a century. They are usually strung up on Thanksgiving weekend. There's something interesting about the lights they used for the "glasses." At one time, either the majority were yellow, or they all were yellow. They quit using yellow bulbs for a long time because a ladies club objected, saying they looked like "bug lights." So, every other color was used.
I was always proud of those "glasses" that my stepfather Floyd Young helped put up every year when he worked for the city street department. Floyd also decorated the water tower. When Floyd worked for the city, it took at least a week and a lot more manpower to put the decorations up than today. They didn't have all the boom trucks and equipment that they use today.
To appreciate the decorations, you really must see them at night. Because of our decorations, Litchfield was given the unofficial title of the "Prettiest Decorated Town West of Minneapolis." There's something to be said for the tradition Litchfield has established and kept going.
But they almost lost it. In October of 1959, under a budget crunch and an auditor's scrutiny, the city public examiner said, "No, we can't afford to do it anymore. Besides, it's illegal!" The auditor stated, "city crews should not be allowed to put up Christmas decorations," finding that the use of city equipment and employees was "unconstitutional." Well, the Chamber members and many local citizens were outraged, and they took up collections to save the tradition. Kids literally emptied their piggy banks. The first week, more than $700 was collected by the "Dollars for Decorations" campaign.
Although the Chamber of Commerce paid for the decorations, the city street maintenance department was asked to maintain them and put them up. This took time, equipment, and money. For over 30 years, from the 1960s and on, Dahl took each of the 5,000 or so 25-watt bulbs out and cleaned and tested them about a month before they went up. You see, with all the truck traffic passing through Litchfield, the bulbs would dim because they would get covered in diesel soot.
So, let those jealous people from other towns call them "glasses" or "bras." Inside their hearts they are saying, "Wow! Look at those beautiful Christmas decorations. This town of Litchfield, Minnesota really has the Christmas spirit."
Yes, travelers, this is Litchfield's annual Christmas gift to you. A gift that says, "Welcome to our beautiful city. Enjoy our lights, tell your family and friends what you saw here and come back and visit us!"
Terry Shaw is a sort of unofficial recorder of Litchfield history, having researched and written two books — "Terry Tales" and "Terry Tales II" — of his remembrances of growing up here. In recent years, Shaw has made daily posts on the Old Litchfield & Meeker County Facebook page. He has begun writing a column "Looking Back in Litchfield" for the Independent Review, as well.