World News
South Africa Sees Milder Disease From Omicron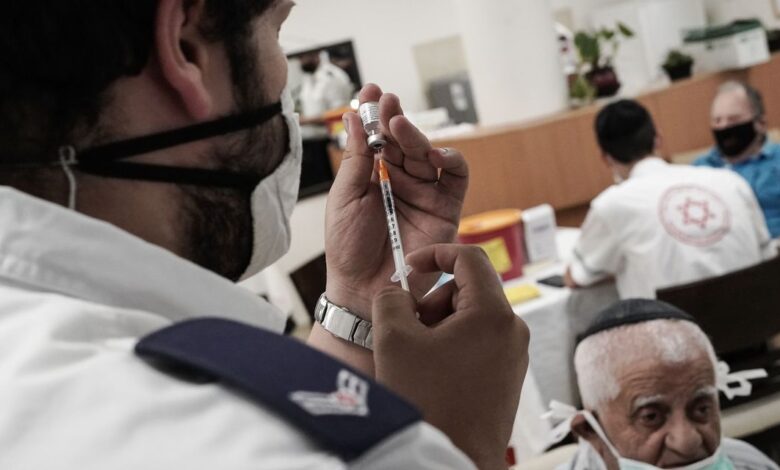 Israel is set to offer a fourth dose of the Covid-19 vaccine to older people and healthcare workers to reduce the impact of an expected surge of infections driven by the Omicron variant—as two major studies found that the variant causes significantly less serious disease than earlier strains.
Researchers at the University of Edinburgh in Scotland concluded that the risk of hospitalization with Omicron was two-thirds lower than with earlier variants. South African researchers said earlier on Wednesday that they estimate the risk of hospitalization at around 70% to 80% lower.
The findings, published in papers that haven't been peer reviewed, are promising signs that immunity from prior infection or vaccination offers substantial protection against severe illness.
In South Africa, Waasila Jassat, a public-health specialist at the National Institute of Communicable Diseases, said there had been no significant increases in admissions to critical-care wards recorded over the past four weeks when Omicron has driven case numbers in the country sharply higher.
"Mortality has been very low in this wave, with the case-fatality ratio lower than at any other point in the pandemic," said Dr. Jassat.
In Israel, the fourth shot would be administered to those over 60 years old and medical workers after at least four months from the third dose, the government said, following a recommendation from the country's panel of experts on the pandemic.
The measure still needs formal approval from the country's health ministry, which could take at least a few days. Senior ministry officials have publicly expressed support.
Health officials said the decision is due both to the expectation that Omicron will surge through the country in coming weeks—including among the vaccinated—and research that showed protection provided from the booster shot begins to wane within three to four months.
Israel was among the first countries globally to start administering a booster shot of Pfizer Inc. and
Covid-19 vaccine in July to help battle an outbreak of Delta.
The recommendation came even though Israel hasn't started research on the effectiveness and safety of a fourth shot, according to a recording of an Israeli cabinet discussion with a senior health official just hours before the experts made their endorsement. The recording was aired on Israel's Army Radio Wednesday morning.
Nadav Davidovitch, head of the Israeli Association of Public Health Physicians and a member of the expert advisory panel, said Israel's health experts were working from indications that a fourth shot would be effective and safe, just as it did when recommending a third shot.
In Germany, Health Minister
Karl Lauterbach,
said that while there are no findings yet on how long the protection from a booster dose lasts, he expects that another booster would be necessary next year.
"We as scientists assume that a fourth vaccination will be necessary," he said at a press conference on Wednesday.
Mr. Lauterbach also spoke in favor of mandatory vaccinations against the virus, a topic that the German parliament is expected to discuss in the near future.
Germany on Tuesday announced tighter curbs on social life to stem the spread of the new variant, including limiting private gatherings to 10 people, closing night clubs and playing soccer games in empty stadiums. The new restrictions will come into force after Christmas, on Dec. 28 and apply to vaccinated people and those who have recovered from Covid-19.
In late October, the U.S. Centers for Disease Control and Prevention updated its guidance to say some immunocompromised individuals should consider a fourth shot.
In the United Arab Emirates, new infections hit a three-month high this week, with 452 cases, up from less than 50 on Dec. 6, and two deaths. The country, of which Dubai and Abu Dhabi are a part, banned travelers from southern Africa last month after the Omicron variant emerged there but has remained open to the rest of the world.
Dubai's Expo 2020 world fair this week suspended some of its daily parades and entertainment in which performers interact with visitors "as a short-term precautionary measure" to curb the spread of Covid-19. It has also imposed some limits on holiday celebrations.
Meanwhile, the Asian financial hub of Singapore said it would limit the number of travelers for its quarantine-free entry program, a new setback for border-reopening plans in the region as the Omicron variant spreads.
The Ministry of Health said on Wednesday that from Dec. 23 to Jan. 20 the government would suspend the sale of airline and bus tickets for those seeking quarantine-exempt entry to Singapore to reduce the country's exposure to imported Omicron cases. Those who have already booked their tickets will be allowed to proceed with their travel plans without facing mandatory quarantine upon their return.
The move is the first significant reversal of a gradual travel reopening that Singapore began in early September, when it started allowing vaccinated travelers from two countries—Germany and Brunei—to enter the country without quarantine. Over the following months, Singapore, a travel hub sometimes seen as a bellwether for the direction of Covid-19 policies in the region, expanded quarantine-free entry to roughly two dozen countries, including the U.S., U.K., India and Indonesia.
Japanese Prime Minister
Fumio Kishida
said Tuesday that the country's near-total ban on new entry by foreigners, which was initially set to expire this month, would be extended indefinitely. He also said that anyone in close contact with an Omicron-positive person would be required to stay for 14 days in a government-designated facility rather than isolating at home.
—Georgi Kantchev, Aaisha Dadi Patel, Peter Landers, David Winning and Stephen Kalin contributed to this article.
Write to Jon Emont at jonathan.emont@wsj.com and Jason Douglas at jason.douglas@wsj.com
Copyright ©2021 Dow Jones & Company, Inc. All Rights Reserved. 87990cbe856818d5eddac44c7b1cdeb8