World News
Thailand reinstates mandatory quarantine for foreign visitors | Coronavirus pandemic News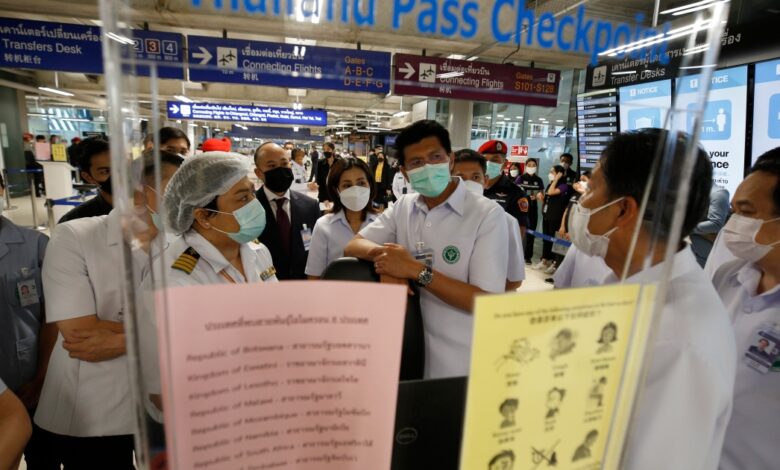 The World Health Organization (WHO) has said the Omicron variant of the coronavirus is spreading faster than the Delta strain and is causing infections in people already vaccinated or who have recovered from the COVID-19 disease.
"There is now consistent evidence that Omicron is spreading significantly faster than the Delta variant," the UN agency's chief Tedros Adhanom Ghebreyesus told a news briefing in Geneva on Monday.
The warning came as health officials in the United States said that Omicron now accounts for 73.2 percent of new cases over the past week, and as the country's first known death linked to the variant is reported in the state of Texas.
Meanwhile, Thailand will reinstate its mandatory COVID-19 quarantine for foreign visitors and scrap a quarantine waiver from Tuesday, a government spokeswoman said.
New Zealand also announced on Tuesday that it would delay its reopening plans until the end of February fearing a rapid spread of Omicron.
Here are the latest updates:
EU sets binding 9-month validity of vaccinations for COVID travel pass
The European Commission adopted rules that will make the EU COVID-19 certificate valid for travel nine months after the completion of the primary vaccination schedule, an EU official told Reuters.
The new rules will be binding on the 27 EU states from February 1, the official said. The rule can be blocked by a qualified majority of EU governments or a simple majority of European Parliament members, but officials have said there is sufficient support for it.
---
Swedish health agency recommends shots for some 5-11 year olds
Swedish children aged 5-11 who are sensitive to upper respiratory tract infections should be vaccinated against COVID-19, the country's Public Health Agency said.
"Based on the current situation, evidence and discussions with the Swedish Pediatric Association and the Medical Products Agency, the Health Agency recommends vaccination against COVID-19 to certain groups of children who are generally extra sensitive to upper respiratory tract infections," the Health Agency said in a statement.
Sweden had previously recommended vaccination from the age of 12, while EU has recommended children aged 5-11 be vaccinated.
---
US to distribute 500 million COVID-19 tests, mobilise military personnel
Faced with a surging Omicron variant, US authorities will distribute 500 million free COVID-19 tests, mobilise military medical personnel if needed and increase vaccination capacity, a senior White House official said.
"We have the tools to get through this wave," he said, noting there are no plans to impose new restrictions. If Americans "are vaccinated and follow the precautions that we all know well, especially masking when travelling, they should feel comfortable celebrating Christmas and the holidays."
---
Hungary rejoins EU's vaccine procurement system
Hungary decided to rejoin the European Union's COVID-19 vaccine procurement process to shield its population from the Omicron variant, ordering 9.5 million doses of the jab developed by BioNTech SE and Pfizer, Prime Minister Viktor Orban said during a news conference.
---
'Cancel now, celebrate later'
---
NHL shuts down Wednesday through Saturday; 5 games postponed
The NHL is beginning a leaguewide shutdown Wednesday amid a rise of infections among players, and with 10 of the league's 32 teams' schedules already paused and their facilities closed.
The league announced that it will open its annual holiday break two days earlier than scheduled and have it run through Saturday. The decision, reached in coordination with the NHL Players' Association, means five additional games scheduled for Thursday will be postponed, bringing the total this season to 49.
---
Thailand reinstates mandatory quarantine
Thailand will reinstate its mandatory COVID-19 quarantine for foreign visitors and scrap a quarantine waiver from Tuesday, a government spokeswoman said, due to concerns over the spread of the Omicron variant.
The decision to halt Thailand's "Test and Go" waiver means visitors will have to undergo hotel quarantine, which ranges between seven to 10 days.
---
Moderna could be ready to develop Omicron booster in weeks: CEO
COVID-19 vaccine maker Moderna does not expect any problems in developing a booster shot to protect against the Omicron variant and could begin work in a few weeks, Chief Executive Stephane Bancel said in an interview.
Moderna hopes to start clinical trials early next year on a vaccine to protect against the fast-spreading variant but for now is focusing on a booster dose of its current mRNA-1273 vaccine.
---
India reports 200 Omicron cases in 12 states
India has recorded 200 cases of the Omicron coronavirus variant across 12 states, mostly in the western state of Maharashtra and the nation's capital New Delhi, said the health ministry.
The country's tally of Omicron cases has nearly doubled within a week, but there have been no deaths reported so far. In less than 40 percent of cases, patients either fully recovered or were discharged, the data showed.
India has been accelerating its vaccination campaign amid fears of potential surges in infections, with at least one dose given to 87 percent of the eligible 944 million adults.
---
Kuwait to make jab booster compulsory
Kuwait will require travellers arriving in the country to have the COVID-19 vaccine booster shot if more than nine months have passed since their vaccination, the government communication centre tweeted.
Kuwait will also require incoming travellers to quarantine at home for 10 days unless they receive a negative PCR test for the coronavirus within 72 hours of their arrival.
---
Australia PM rules out lockdowns despite Omicron surge
Australia must move past "the heavy hand of government" and authorities must stop shutting down people's lives with COVID-19 lockdowns, Prime Minister Scott Morrison said on Tuesday, as daily infections in the country shot up to a new pandemic high.
"We have got to get past the heavy hand of government and we have got to treat Australians like adults," Morrison told reporters, urging authorities to shift from "a culture of mandates" when it comes to masks and social distancing rules.
"We're not going back to lockdowns. We're going forward to live with this virus with common sense and responsibility."
---
First Omicron-linked death reported in the US state of Texas
Texas' Harris County has reported its first death related to the Omicron COVID-19 variant, a man who was unvaccinated, the county health department said in a statement.
It is believed to be the first known recorded Omicron death in the United States, broadcater ABC News reported.
The US Centers for Disease Control and Prevention (CDC) did not immediately respond to a Reuters news agency request for comment on the issue.
The victim, aged between 50-60 years old, was at higher risk of severe complications from COVID-19 as he was unvaccinated, the health department said in a statement.
BREAKING—First #Omicron US death in Texas—in an unvaccinated man **reinfected** after previously having #COVID19. New convalescent blood🩸 studies of survivors (of Alpha, Beta, or Delta variants) show little to no neutralization defense against Omicron. Please #Vaccinate& Boost🧵 pic.twitter.com/SjB39XxjNU

— Eric Feigl-Ding (@DrEricDing) December 21, 2021
---
New Zealand delays reopening plans
New Zealand said on Tuesday that it would delay its reopening plans until the end of February, fearing a rapid spread of the Omicron variant of the coronavirus.
New Zealand had previously announced that non-quarantine travel would reopen by mid-January for New Zealand citizens and residents in Australia, and to foreign tourists by April.
"There's no doubt this is disappointing and will upset many holiday plans, but it's important to set these changes out clearly today so they can have time to consider those plans," COVID-19 Response Minister Chris Hipkins said in a statement.
---
Singapore finds suspected Omicron cluster in gym
Singapore's Ministry of Health has announced that it has detected a cluster of three COVID-19 cases linked to a gym, of which two have tested preliminarily positive for the Omicron variant. The result for the remaining case is pending.
All three people were fully vaccinated and have mild symptoms.
The health ministry is ring-fencing the cases through contact tracing, it added.
---
Omicron now dominant strain in US: Health authorities
The fast-spreading Omicron variant is now the main coronavirus strain in the United States, accounting for 73.2 percent of new cases over the past week for which data is available, according to health authorities.
The Centers for Disease Control and Prevention reported the spike for the week ending on Saturday.
Over the same time period in the Pacific Northwest states of Oregon, Washington and Idaho, Omicron accounted for 96.3 percent of new cases.