Sports
Jake Paul vs. Tyron Woodley 2 results, live streaming updates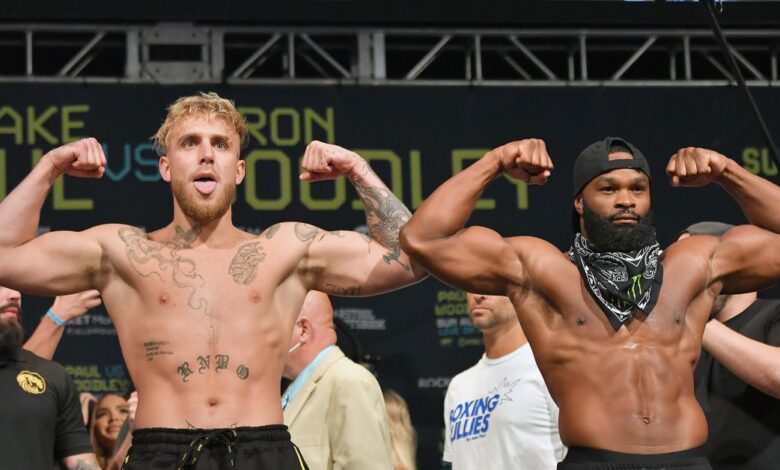 Fresh off a stunning upset victory over former Ultimate Fighting Championship (UFC) Welterweight champion, Tyron Woodley, the undefeated Jake Paul (4-0) — the biggest "celebrity" boxing star — has granted "The Chosen One" a reluctant second opportunity thanks (or no thanks) to an untimely injury to Tommy Fury.
The original match a few months ago marked Woodley's boxing debut, and as the whole world witnessed, saw him fall to 0-1 (and get a suspect tattoo) and, subsequently, light a fire that he hopes to channel into an overwhelming amount of activity to stun the millions watching around the globe.
The Paul vs. Woodley rematch, which is scheduled for eight, three-minute rounds at 192 pounds, will go down TONIGHT (Sat., Dec. 18, 2021) from inside Amalie Arena in Tampa, Fla., streaming on Showtime Boxing pay-per-view (PPV) at 9 p.m. ET.
MMAmania.com will deliver LIVE coverage of tonight's PPV main card. The $59.99 Showtime PPV (also available on FITE.tv outside North America) kicks off at 9 p.m. ET (watch it here), with Paul and Woodley likely to make the walk closer to midnight.
Also on the Showtime PPV main card is one of the best female boxers in the world, the 41-1-1 multi-division champion, Amanda Serrano. She's moving up yet another weight class to fight the Lightweight challenger, Miriam Gutierrez. Gutierrez (14-1) is fresh off a can-crushing rebound fight after challenging another great of the sport, Katie Taylor, and coming up short in a unification bout for the WBC, WBO, IBF and WBA Lightweight titles. Serrano is the odds-on favorite, coming into this bout riding a gaudy 27-fight unbeaten streak.
The PPV broadcast will also feature former NFL running back Frank Gore tangling with former NBA point guard Deron Williams. And getting back to serious boxing, we've got a surprisingly good fight between two young, undefeated Junior Welterweight talents in Yomar Alamo and Liam Paro to kickoff the show.
Evening, everybody. Braiterman here with you alllll niiiight looong. Or until around 1AM maybe.
Jake Paul vs. Tyron Woodley
Amanda Serrano vs. Miriam Gutierrez
Deron Williams def. Frank Gore via split decision 40-35, 38-37, 37-38
Liam Paro def. Yomar Alamo via split decision 96-93, 95-94, 94-95
192 lbs.: Jake Paul vs. Tyron Woodley
Round one:
Round two:
Round three:
Round four:
Round five:
Round six:
Round seven:
Round eight:
Final result:
135 lbs.: Amanda Serrano vs. Miriam Gutierrez
Round one: Gutierrez in black and red, Serrano in blue and black. Gutierrez with a left to open the bout. Serrano landing right hands, and she's flurrying Gutierrez. Serrano has Gutierrez backed to the ropes and there's punches in bunches. Gutierrez trying to fire back, but she's eating at least 3 for every 1. 10-9 Serrano
Round two: Solid jab for Serrano. Man, once Serrano gets into flurry range, she just unleashes 4, 5, 8 punches. Gutierrez is landing back, but still getting hit a lot. Good right from Gutierrez gets in. Another right as well. A better round for Gutierrez, but I still say 10-9 Serrano, 20-18.
Round three: Not a fan of these two-minute rounds, if I can be honest. Slower round so far. Left hand from Gutierrez scores. Serrano with a right hand. Both land rights. Serrano lands a jab to the body. 10-9 Gutierrez, 29-28 Serrano.
Round four: I like how Helwani tried to interview a somewhat drunk Nate Diaz, who was his usual loquacious self while completely ignoring Jake Shields right next to him, because no onw knows who he is. Anyway, back to the action. Solid rights from Serrano and Gutierrez hits her back with some lefts. Liver shot lands for Serrano. Body-head from Gutierrez. Right hand staggers Gutierrez briefly. Both women slugging to the body. Lefts from both women land clean! 10-9 Serrano, 39-37 Serrano.
Round five: Gutierrez connects with a jab, but eats a right hand on the return. Nice right hand from Gutierrez. Uppercut from Gutierrez, hook for Serrano. Body-head from the 7-division champ and a jab. Slower round, 10-9 Serrano, 49-46.
Round six: Gutierrez missing a lot here, as she's lost the range a bit. Serrano to the body, Gutierrez to the head. Serrano with a pair of hooks, make that three. Serrano hitting and getting hit, but still at a two- or three-to-one clip. 10-9 Serrano, 59-55.
Round seven: Solid left hands from both women here. This repeats like, six times. Serrano keeps backing up Gutierrez. She's countering, but the heavier shots seem to be coming from Serrano. I can't keep up with all the punches. Serrano going Tasmanian devil here and landing nearly all of what she's throwing. Gutierrez isn't doing nothing, but she keeps getting hit with a massive tide of blows. The booth says that Serrano landed 40 punches in that two-minute round! 10-9 Serrano, 69-64.
Round eight: The Serrano buzzsaw is in full effect now, as she's throwing big shots. Gutierrez still doing her best to answer back, but she's bleeding and seems unable to hurt Serrano. Rights from both women. Lefts! Heck of a slugfest here. Serrano goes to the body and Gutierrez ties up. Gutierrez landing at a decent percentage as Serrano slows down at the round. 10-9 Serrano, 79-73
Round nine:
Round ten:
Final result:
215 lbs.: Frank Gore vs Deron Williams
Round one: Williams in the white trunks with black trim, Gore in white and red. Williams with a nice, long right hand to open the action. Jab for Gore. Gore nearly eats a big right, but got a glove in the way. Uppercut from Frank. Another right lands for D-Will. Gore closes the distance, but they clinch. Williams the aggressor and hits the 2. That right hand has been money for Williams so far. Williams is using his footwork well to hide when he throws that right, which lands again. 10-9 Williams.
Round two: Both men get in rights, but William's range is cleaner. Gore gets in a couple rights to the ear. There's a heavy right hand from Gore that wobbles Williams. Deron with two straight rights of his own. He shoves Gore through the ropes! Gore taking a minute to recover here. They restart and now Williams almost goes through the ropes. Williams with a pair of counter rights. Gore slips down and he's taking his time to stand back up. Gore gathers himself and lands a right as the round ends. 10-9 Gore, but a close round.
Round three: Williams the aggressor again to start. His right has been landing over and over. Williams with the power double attempt this time. Gore thought there was a break and wasn't defending himself from a big right! There's a standing 8 from the ref. Gore hits a right, Williams throws power back. Gore looks like he's tiring here. Both men breathing heavily. Lots of work from the ref here, as both men are clinching at nearly every opportunity. 10-8 Williams.
Round four: Uppercut and a left from Williams. Gore looks gassed and content to wait for Williams to start the action here. There it is – Williams stepped in and got cracked with a right hand. Looping right for Gore. There's a right hand from Williams as the fight ends. 10-9 Gore. I score this 38-37 Williams.
Final result: Williams defeats Gore via split decision 40-35, 38-37, 37-38
140 lbs.: Yomar Alamo vs. Liam Paro
Round one: This has a chance to be a really good one. Both fighters are coming up a weight class and have high hopes. Alamo in the red, white and blue trunks of Puerto Rico. Paro in the silver. Alamo opens the action up with a jab. Paro gets in a slight one as well. There's one for the Aussie that lands to the ribs of Alamo. Left hand lands for Paro as Alamo ducks into what would have been a body punch. Counter left for Alamo. Great counter left-right and Paro stumbles to his hands and knees for the first knockdown! 10-8 Alamo
Round two: Paro gets in a blow a bit below the belt, which gets a little "whoa whoa whoa" action from the ref. They clinch at 1:50 and get reset. Right hand to the body for Paro as Alamo is circling. Paro misses a 1-2. Big left from Paro just grazes the chin. Alamo misses a big overhand, but evades return fire. Paro surges forward with a couple seconds left. 10-9 Paro, 19-18 Alamo overall.
Round three: Paro gets in a nice left and covers up from the oncoming traffic. Alamo hits a straight right hand. Jab from Paro and a body jab, too. Alamo lands one of his own that pops Paro's head back. 1-2-2 from Paro, but only the last one hit clean. Slow round, but another 10-9 for Paro, 28-28 overall.
Round four: Alamo still content to fight on the back foot so far. Glancing right lands for him. Paro with a jab. When he keeps his defense clean, he's landing a couple shots here and there and not leaving openings for Alamo to counterpunch. Left hand for Paro. Neither man landing really clean with 30 seconds left in the round. There's a lunging left hand from Paro. Liam gets in a hook to the body. 10-9 Paro, 38-37 Paro
Round five: Alamo now taking the center and coming forward, still not landing cleanly. Paro with a jab to the ribs. Low blow from the Aussie gets a short break before we restart. Left hand to the bread basket from the Aussie. Finally, there's a right hand connection from the Puerto Rican. Straight left for Paro as he follows it into a clinch. Left to the body and to the head for Paro. Right uppercut for Alamo. 10-9 Paro, 48-46.
Round six: Flicking jab lands for Paro, who's on the front foot again. There's a right hand for Alamo. Paro still the only one to get in body shots so far. He does a good job of punching and floating past Alamo, making him circle his feet before he can do anything else. Lead cross from Paro. Alamo dodges a left. Counter left hits Paro and he starts circling away. He slips and Alamo wants a knockdown, but no dice. 10-9 Alamo, 57-56 Paro.
Round seven: Nice check right hook from Paro. Body left for Paro and a right to the chin from Alamo. Alamo lands a jab, but eats a hook in return. Headlock from Paro draws the ire of the ref. 10-9 Paro in a close round. 67-65 overall.
Round eight: Paro remaining committed to the bodywork. Alamo gets a counter right in, but Paro flurries back and gets a right. Alamo lands clean. Counter left for Paro. Glances in a 2, but so does Alamo. Alamo just misses a swing with his left. There appears to be a fight in the stands. Good left from Paro. Jab as well. Alamo with a right hand in the clinch. Another close round. 10-9 Paro, 77-74
Round nine: Not much action early in the round. They clinch and Paro gets in a rabbit punch who gives a stern warning to the Aussie. Left hand from Alamo. Couple of rights get in, too. There's a left from Paro. Jab. Straight left hits mostly glove. Right hand from Alamo connects – gets part glove, part head. 10-9 Alamo, 86-84 Paro.
Round ten: Big left from Paro to open the final stanza here. One from Alamo as well, but not as heavy. Couple of glancing rights from Alamo. Paro with a left, but it was more of a mush than a strike. 40 seconds to go and Alamo is mostly on his bike here. Short right from Alamo. They both land right hands as the fight ends. 10-9 Paro, 96-93 overall on my card.
Final result: Paro defeats Alamo via split decision 96-93, 95-94, 94-95
---
For more news and detailed information on "Paul vs. Woodley 2" click here.
Source link