Entertainment
Charlotte NC District 57 entertainment venue adds laser tag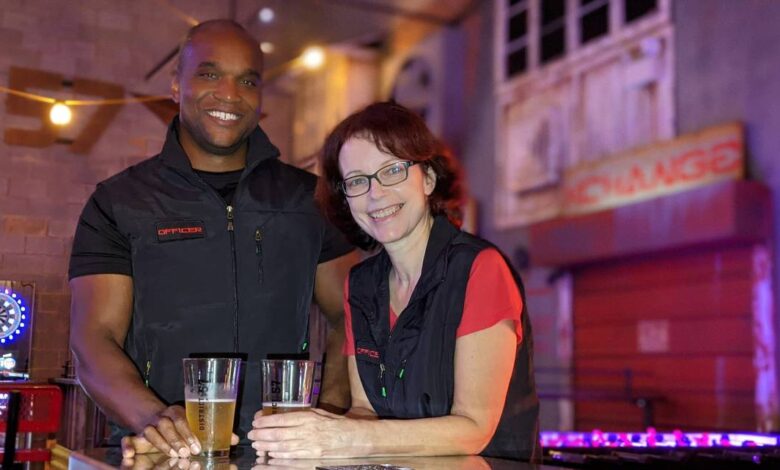 A west Charlotte entertainment complex that opened just over a year ago is expanding, adding hi-tech, immersive laser tag.
District 57, an immersive entertainment complex, opened its 4,000-square-foot tactical combat laser tag arena Friday for ages 16 and older. It's part of the 20,000-square-foot venue at 1526 Alleghany St., off Freedom Drive.
District 57 opened in November last year with The Grid, a 30-room challenge requiring physical and others logic-based tasks.
The new laser tag arena, called Bordertown, brings high-speed military-ops video games to life, according to complex owners Jelani Patterson and Mylene Labrie. new sentence: They also opened the country's first escape rooms called Exit Strategy prior to District 57.
Bordertown is not the laser tag of the 1980s and 1990s, Patterson said. Players use the same equipment used for military and police training. "This is the real deal," he said, "so come prepared for a challenging workout."
How Bordertown works
When the arena doors open, players are transported into the frontlines of a high-speed combat zone as they suit up in bulletproof vests and grab their military-inspired black ops rifles, according to the company.
The laser guns, at about seven pounds, function similarly to real-life rifles with recoil, muzzle flashes, red dot scopes and magazine reload.
There are two phases of Bordertown: High Stakes, a mission-based, story-drive game, or Rapid Fire, a black-ops combat arena of eight-minute mini games like team death match or capture the flag.
Teams may need to complete various tasks to unlock more ammunition or weapons in order to progress forward.
The arena can have four to 20 people at one time. Unlike The Grid where players can jump in any time, Bordertown runs on a 90-minute session cycle so reservations are recommended. Cost is $30 per person for one hour in Bordertown.
What to expect while playing
The equipment and software is new to Charlotte, Labrie said. But players can track their online rankings on an international leaderboard.
"We're unique in Charlotte but there are other places that use the same system," she said.
All of the special effects and props in Bordertown are custom-built in-house.
Players also can choose the lighting, like team color, dusk or night time, or scary with more flashing strobes. They also can pick the music from rock 'n roll to movie and hip hop to movie soundtracks.
"It makes it more video game like," Patterson said. "Special things like that makes it unique from other venues."
Labrie also recommends wearing gym clothes, including running shoes, and bring water. "This is highly active, the guns are very realistic, and it is a workout," Labrie said.
Concerned about the realism? Labrie, a native of Canada, thought it might be too close to reality, but after trying it said it's more like a video game.
"I think what sets it apart is that it turns into a fun competition. There is none of that undertone of violence people might be concerned about," she said. "It's about teamwork, competition and just having fun in a safe environment … and helping people create memories."
What's next for District 57?
District 57 originally planned to open a third phase in another 2,000-square-foot space in the venue. However, Labrie and Patterson said they'll instead continue to use it for private events. During the past year, companies have rented the space for team building, and it's been used for birthday parties and other celebrations.
The complex also has fast-casual food, a self-serve bar featuring local beer and arcade games.
Labrie said District 57 draws customers from throughout the Carolinas, but it's been a "rollercoaster" opening during a pandemic.
"There is absolutely no predictability," she said.
District 57 follows Mecklenburg County's mask mandate requiring staff and customers to wear masks.
The entertainment, with seven full- and part-time employees, also requires workers to be vaccinated. Labrie said that's been a challenge for hiring more people.
"For us, that's been a deal breaker," she said. "We're still looking for the right person."