Fitness
Pole dance at Aerial Affinty climbs into mainstream fitness | News
From the Indian gymnastic sport of Mallakhamb to traveling circuses and burlesque nightclubs, the art of pole dance has taken many forms over the past 800 years. Over the past two decades, pole dance has taken on a new form in fitness and dance studios across the country as a physical sport and exercise routine.
At the Aerial Affinity studio in Le Sueur, people learn to climb up the pole, whirl around and even turn themselves upside down under the tutelage of instructor Amy Gould. Performing these tricks is a full body workout, said Gould, requiring upper body and core strength, flexibility and routine training to execute them consistently.
"I like the physical challenge," said pole class participant Avery Royce. "It's challenging and fun, which is a really cool combo."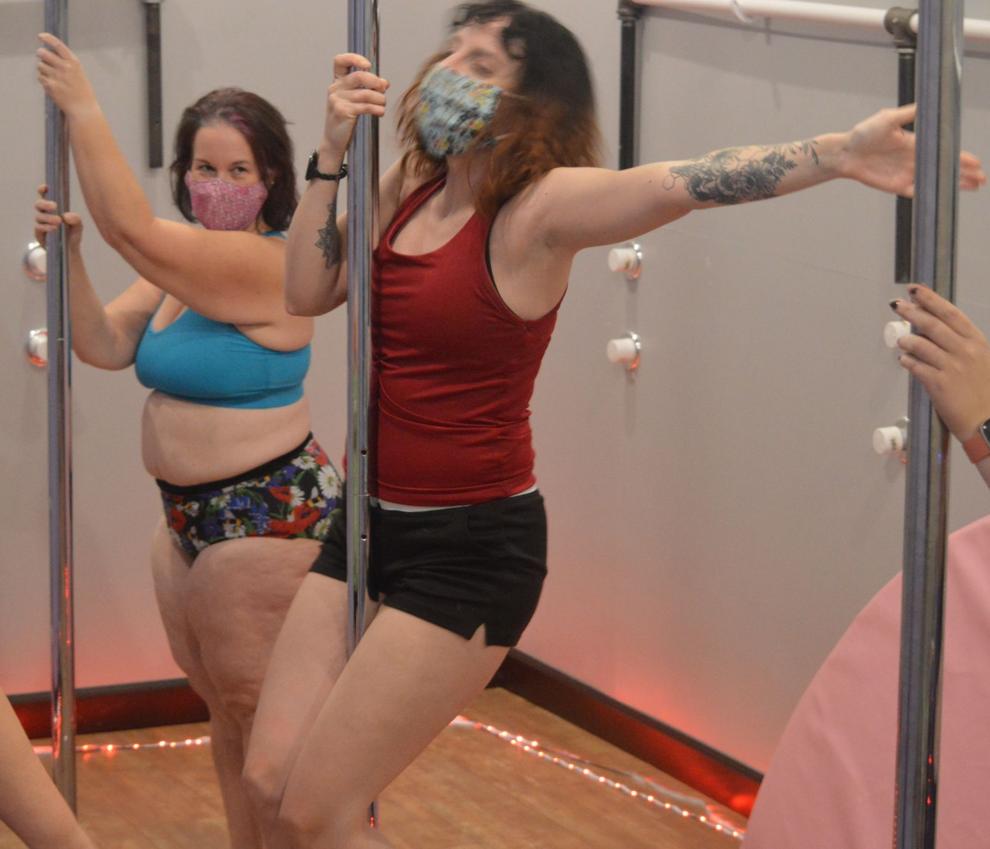 Gould started poling nearly 10 years ago after the birth of her first child. Struggling with postpartum depression, she decided to get out of the house and work on fitness. Her journey led her to chair dance and later pole dance.
Unlike a regular workout routine on an elliptical or treadmill, pole fitness offered Gould an opportunity to pick up a new skill and continue to get better.
"To me, gyms are great, but I tend to get bored after a while," said Gould. "With the pole I stay much more engaged because I'm learning a skill. Yes, I teach, but I'm always learning. You don't just learn and you're done, you keep on adding to it forever and ever until you're ready to be done."
Gould offers beginner and intermediate level courses to satisfy newcomers and people who want to learn more advanced tricks.
At the beginning of each session, students warm up before Gould walks them through each individual trick they're about to learn or practice. She takes care to guide her pupils through the physics behind each trick, why they need to move their body in a specific motion to maintain their grip on the pole while they're in the air.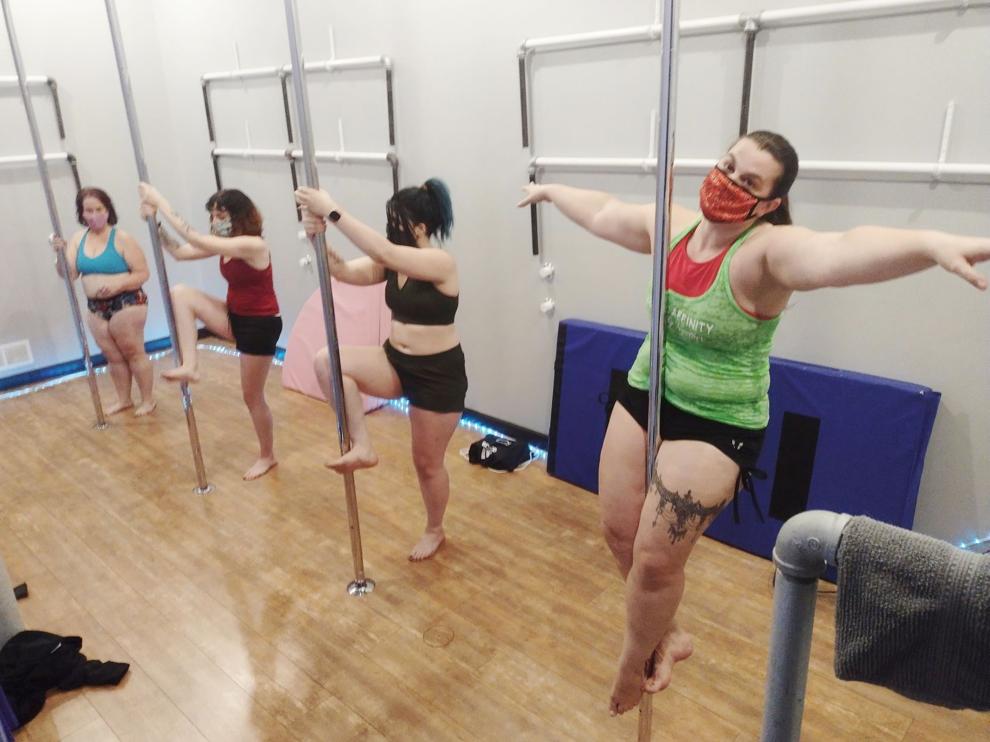 "Pole is very different in that it makes me much more aware of my body," said class participant Meg Nutting. "I'm not just using this machine, I'm using this muscle for this reason, and I have to move it in this direction. So it makes me think while I'm working out."
Pole isn't just for young people, even people as old as 65 have taken pole lessons in Gould's classes. The fitness instructor stressed that anyone, no matter their gender, body shape or age can learn how to pole. Even a pole routine where one's feet don't leave the ground can leave dancers sore the next day.
Rita Iverson took up pole again at Gould's Monday class after taking a couple months off due to recent surgeries. For Iverson, pole dance was an opportunity to try something new for exercise and since starting she's found more confidence in herself.
"I've been having more confidence even just going out and buying clothes," said Iverson. "It's OK to wear clothes that fit more snugly than I'm used to while still being appropriate for my age and body type."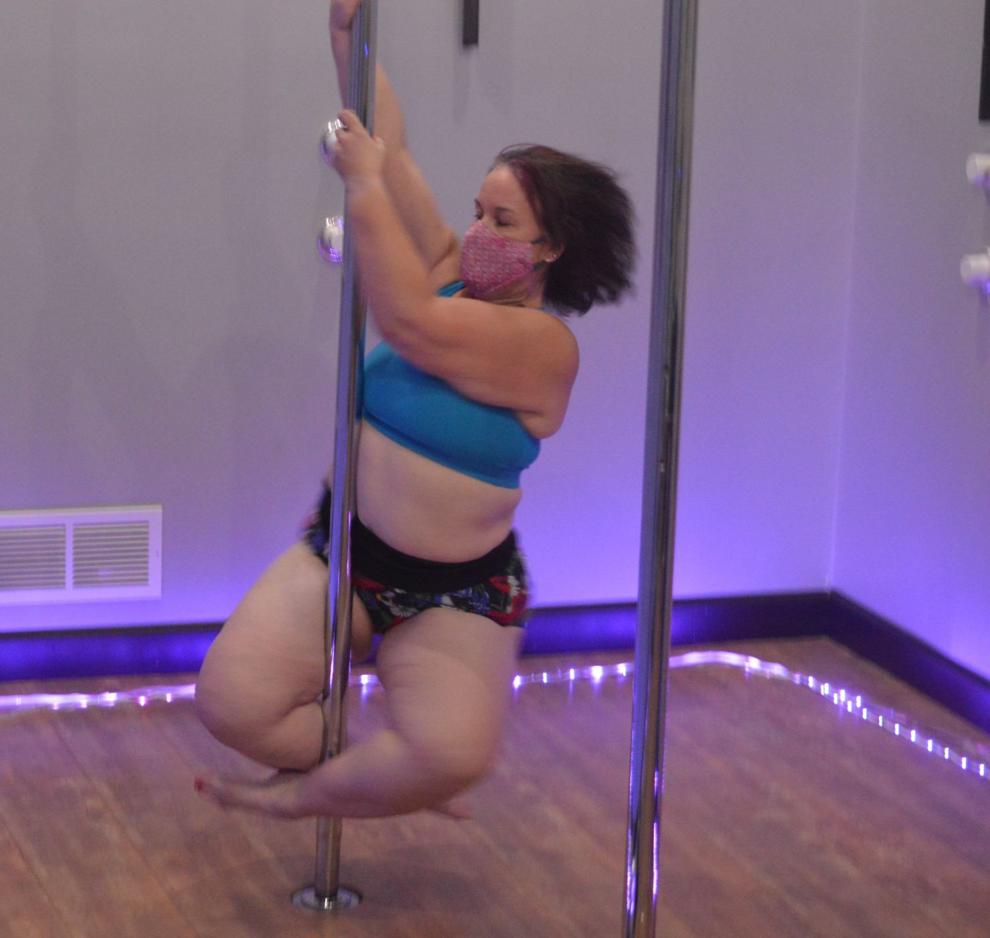 Pole dance is proving to be more than just a fitness craze. After taking the fitness world by storm, members of the International Pole Sports Federation have set their sights on making pole dance an Olympic Sport.
"I think it's becoming more accepted in the mainstream," said Gould. "It used to be at work, if they knew that I was poling, I would have been fired. Now, one of my managers is taking classes and its big deal and that's super refreshing."
Reach Reporter Carson Hughes at 507-931-8575. ©Copyright 2021 APG Media of Southern Minnesota. All Rights Reserved.