Fitness
Chattanooga-based Echelon Fitness in new headquarters and riding to more growth in 2022, CEO says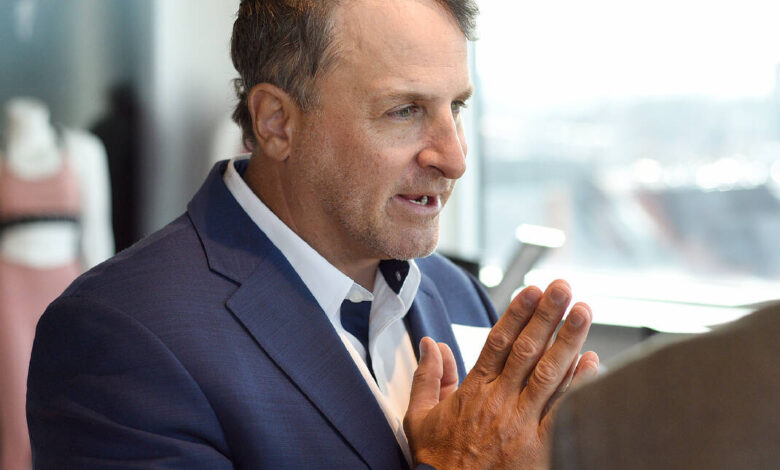 Echelon Fitness has moved into its new Chattanooga headquarters on two floors in Liberty Tower, where company officials oversee a now far-flung operation ranging from the U.S. to Europe to Asia.
"We're already running of out space," said Lou Lentine, founder and chief executive of the company that has sped from a startup in 2017 to employing nearly 250 people, about half of them in Chattanooga.
In June, the company officially shifted its home office to 20,000 square feet in one of downtown's tallest office buildings. From there, Echelon executives run the company, doing everything from making corporate decisions to producing many of the 250 interactive video classes weekly in its studios.
Lentine said during an open house Thursday the business has expanded well beyond offering stationary bikes, and it sells about a half-dozen other kinds of fitness equipment. He said Echelon's No. 1 seller by dollar volume is a treadmill.
Next week in New York, the company plans to introduce a bike with a curved screen and a variety of other innovative features expected to retail for about $2,200, he said.
The serial inventor and promoter from New Jersey brought his Viatek Consumer products company to Chattanooga in 2011. He created Echelon about four years ago to provide what he called a more affordable stationary bike with the tracking and interactive features of Peloton and other higher-priced rivals.
With the onset of the worldwide coronavirus pandemic in early 2020, Echelon and other competitors saw fast-paced growth as many people stayed home.
Photo Gallery
Chattanooga-based Echelon Fitness riding to more growth
Lentine said Echelon revenues soared 1,000% in 2020 as the pandemic dragged on. The company set up major relationships with "all the major retailers," he said.
This year, the company grew about 65% as it became harder to compare revenue gains and many people returned to a more normal routine. Still, Lentine said Echelon is predicting a 42% rise in business in 2022, he said.
Lentine said growth isn't without difficulties.
"The supply chain is still an issue," he said. "We can't get it shipped out."
Also, publicly traded Peloton has three lawsuits pending in federal court alleging patent infringement, which Echelon has denied.
The company CEO said he likes Chattanooga in part due to the high-speed internet which permits it to seamlessly operate its interactive offerings.
Kevin Custer, Echelon's chief content officer, said the company has two studios in the city, one at the Chattanooga Choo Choo complex and the other at its new headquarters.
"We want the supply to meet the demand," he said.
Lentine said the company also used a local business, Solid Rock Live, to handle the new studio audio-visual equipment setup.
The company has leased about 60,000 square feet of warehouse space off Amnicola Highway, he said, and it likely brings in hundreds of people to local hotels each month for business travel.
Contact Mike Pare at mpare@timesfreepress.com or 423-757-6318. Follow him on Twitter @MikePareTFP.