Business
Dow Jones Futures: Stock Market Rally Revs Higher, Should You Jump In? Google, Microsoft Flash Buy Signal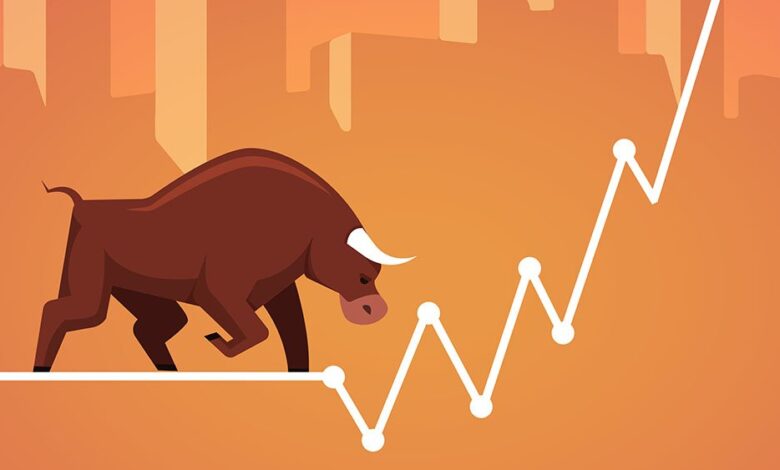 Dow Jones futures tilted higher Tuesday night, along with S&P 500 futures and Nasdaq futures. Earlier, the stock market rally attempt continued with strong gains for a second straight session, as omicron variant fears fade.



X




The Nasdaq and S&P 500 had their best gains since March, as Apple stock, Nvidia (NVDA), Tesla (TSLA), Microsoft (MSFT) and Google parent Alphabet (GOOGL) helped lead the advance. Apple (AAPL), Tesla and Nvidia stock had the bigger percentage gains, but MSFT stock and Google offered entries.
It was a broad-based advance far beyond tech titans. Energy names were among the strongest performers. Shipping-related firms were strong. Retail, financial and housing-related plays had solid gains.
While aggressive traders could choose to take some pilot positions, the stock market rally attempt has not yet been confirmed.
Earnings After Hours
After the close, Toll Brothers (TOL) and SentinelOne (S) reported earnings.
Toll Brothers earnings solidly beat views, a positive sign for the now-leading housing sector. TOL stock rose a fraction in extended trade. Shares of the luxury builder edged up 0.55% to 71.24 on Tuesday, slightly extended from a 67.43 handle buy point.
SentinelOne stock tumbled overnight despite better-than-expected Q3 results and revenue guidance. S stock jumped 13% Tuesday, but the cybersecurity firm has plunged from its early November highs.
Also moving late: Tech services firm Epam Systems (EPAM) jumped on word it'll join the S&P 500. EPAM stock is set to rebound above its 50-day moving average and break a trend line.
Tesla, Google, Microsoft and Nvidia stock are on IBD Leaderboard. Google stock is on SwingTrader. Google, Epam Systems and Microsoft stock are on IBD Long-Term Leaders. Nvidia and Tesla stock are on the IBD 50. GOOGL stock also was IBD Stock Of The Day.
The video embedded in this article discussed Tuesday's positive market action and analyzed Silicon Motion (SIMO), Civitas (CIVI) and Google stock.
Dow Jones Futures Today
Dow Jones futures were slightly above fair value. S&P 500 futures climbed 0.2% and Nasdaq 100 futures rose 0.2%.
Remember that overnight action in Dow futures and elsewhere doesn't necessarily translate into actual trading in the next regular stock market session.
---
Join IBD experts as they analyze actionable stocks in the stock market rally on IBD Live
---
Stock Market Rally Attempt
The stock market rally followed up Monday's bounce with even-stronger gains.
The Dow Jones Industrial Average climbed 1.4% in Tuesday's stock market trading. The S&P 500 index popped 2.1%. The Nasdaq composite jumped 3%. The small-cap Russell 2000 gained 2.3%.
Apple stock ran up 3.5%, hitting a record high. The Dow Jones tech titan is extended from any buy point. Nvidia stock surged 8% after rebounding from just above its 10-week line on Monday. But shares are 16% above their 10-week now.
Tesla stock popped 4.2% after surviving a 50-day line test Monday. But the EV giant is still below its 21-day line and possible trend lines. The China Passenger Car Association will release Tesla China sales and exports Wednesday morning, along with industrywide EV and overall auto sales.
Crude oil futures rose 3.7% to $72.05 a barrel after leaping 5% on Monday. The 10-year Treasury yield climbed 5 basis points to 1.48%. The two-year Treasury yield also gained 5 basis points to 0.69%, the highest since March 2020.
Among the best ETFs, the Innovator IBD 50 ETF (FFTY) ran up 4.4%, while the Innovator IBD Breakout Opportunities ETF (BOUT) climbed 2.8%.  The iShares Expanded Tech-Software Sector ETF (IGV) rallied 3.8%. MSFT stock is a major IGV component. The VanEck Vectors Semiconductor ETF (SMH) leapt 4.85%. NVDA stock is a key SMH holding.
SPDR S&P Metals & Mining ETF (XME) rose 2.2% and Global X U.S. Infrastructure Development ETF (PAVE) 1.75%. U.S. Global Jets ETF (JETS) edged up 0.05%. SPDR S&P Homebuilders ETF (XHB) climbed 1.3%. The Energy Select SPDR ETF (XLE) advanced 2.3% and the Financial Select SPDR ETF (XLF) picked up 1.8%.
Reflecting more-speculative story stocks, ARK Innovation ETF (ARKK) rose 5.4% and ARK Genomics ETF (ARKG) 7.7%, after both hit 52-week lows recently. Tesla stock is the No. 1 holding across ARK Invest's ETFs.
---
Five Best Chinese Stocks To Watch Now
---
Google Stock
Google stock rose 1.9% to 2,945.39, rebounding from its 50-day moving average, clearing its 21-day line and breaking a short trend line. A 50-day line bounce can be a good time to buy a Long-Term Leader.
GOOGL stock also has reclaimed the old 2,925.17 flat-base buy point. It's unclear if investors should be focusing too much on that entry any more, but it's a good sign.
Finally, Google stock has a three-weeks-tight pattern with a 3,019.43 entry.
Microsoft Stock
Microsoft stock rose 2.7% to 334.92, breaking a short downtrend and moving above its 21-day line. That comes a day after it rebounded from its 50-day/10-week lines. At 3.3% above its 10-week line, investors could choose to take a position in MSFT stock.
Stock Market Rally Analysis
After Monday's solid session, the Nasdaq had its best percentage gain in nine months, jumping above its 50-day moving average and 21-day line. So, stock market correction over? Not so fast. Historically, some of the market's best days are in corrections or bear markets.
It's still just the second day of a stock market rally attempt on the S&P 500 and Nasdaq. It was the fourth day of a rally attempt on the Dow Jones. The Dow's price gain was strong enough for a follow-through day to confirm the new rally, but NYSE volume fell vs. Monday. So Tuesday was not a Dow Jones follow-through day.
Volume also declined on the Nasdaq.
Still, it was a positive session. Winners easily outpaced losers for a second straight session. New highs trumped new lows, especially on the NYSE.
The S&P 500, after regaining its 50-day line on Monday, rose above its 21-day line on Tuesday and broke a downtrend. The Dow Jones climbed above its 50-day and a trend line. The Russell 2000 rallied to its 200-day line.
As the indexes suggested, the market showed broad-based gains.
Homebuilders continue to do well. The 10-year Treasury yield not rising much likely helped. Energy kept running. Ocean-based shipping firms and trucking firms did well. Many chip and software names had huge gains, but many of those charts look damaged.
even though a small study suggested that the Covid variant partly eludes the Pfizer coronavirus vaccine, investors are growing more confident that the omicron variant is not a serious threat. That's bullish for energy stocks. It should be good news for travel stocks, though they closed mixed after rebounding Monday. If omicron is not going to derail the economic recovery, the Federal Reserve has signaled it may speed up the bond taper, perhaps as soon as during next week's policy meeting.
Ultimately, the stock market is going to do what it's going to do.
---
Time The Market With IBD's ETF Market Strategy
---
What To Do Now
If you added a little exposure in the past couple of sessions, you're likely up on those positions. But be ready to scale back out quickly. There's a reason why IBD looks for a follow-through day to confirm a new rally attempt. After a market sell-off, it's not surprising to see stocks rebound for a day or two, often powerfully.
Investors could start testing the rally attempt. One argument for tiptoeing into a name like Microsoft or Google stock is that they are unlikely to suddenly plunge 5%, 10% or more. There's also nothing wrong with standing pat for now.
You want see real evidence of institutional support for a new rally before committing heavily. If the stock market rally ends up having a follow-through day and goes on a run for several weeks, investors will have plenty of opportunities.
Read The Big Picture every day to stay in sync with the market direction and leading stocks and sectors.
Please follow Ed Carson on Twitter at @IBD_ECarson for stock market updates and more.
YOU MAY ALSO LIKE:
Why This IBD Tool Simplifies The Search For Top Stocks
Catch The Next Big Winning Stock With MarketSmith
Best Growth Stocks To Buy And Watch
IBD Digital: Unlock IBD's Premium Stock Lists, Tools And Analysis Today