Entertainment
A&E writers' heartwarming Christmas traditions | Arts & Entertainment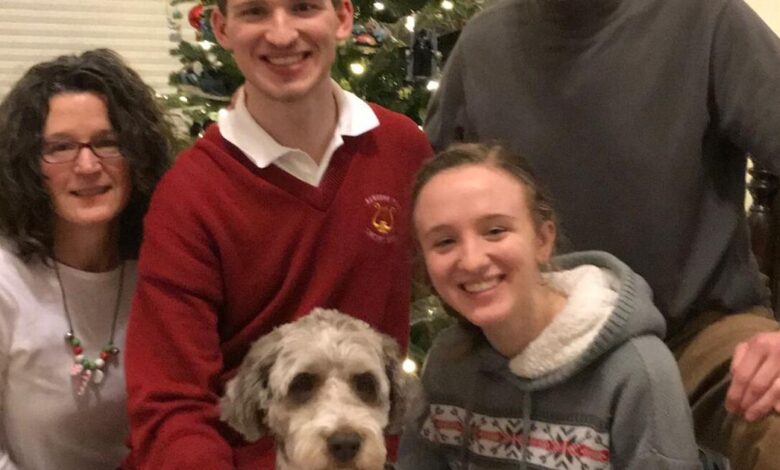 When it comes to the Christmas holiday, there are many traditions that can be experienced. From creating fun, tasty treats to wearing christmas pajamas and watching Christmas classics, these traditions are a way for many of us to get into the Christmas spirit. Annie Liemohn, Demetrous Nobles, Jarod Borem, Natalie Togtman and Hallie Wolf are Arts and Entertainment writers that have fascinating and heartwarming Christmas traditions. 
Christmas traditions are different for each individual, especially where the tradition comes from. Annie Liemohn (featured in bottom right photo), over the years, has picked up on a fascinating tradition she does with her family every Christmas. It involves culture and a tasty treat. 
"My dad's side of the family is fully Norwegian so I am fifty percent Norwegian; with that, we do Norwegian traditions. Whenever we go visit my dad's side of the family, we make this type of pastry called lefsa. Lefsa is basically this thin, potato, tortilla sort of thing. It's a four day process to make. The first day you mash the potatoes and you prep all of the mashed potatoes and everything. Then the second day you chill it in the fridge. The third day you pound it out into a thin tortilla-consistency," said Liemohn. "The fourth day, you cook it. There's this skillet [similar to what you cook pancakes on], but it's shaped as a circle. You put the tortilla potato on the thing and then you use this really long wooden stick to flip the potato. When they are done cooking, you can add butter and brown sugar to them and roll it up."  
Jarod Borem and his mother also have a tradition influenced by their culture. Making tasty Polish cookies is their way of welcoming the holiday into their lives and others. 
"I don't really do anything big, it's more on the low key," said Borem. "It's just my mom and I these past few years. We make kolaches together, which is a polish cookie; it's my favorite dessert. We always put on Christmas movies and make kolaches and it is a lovely, lovely time. We eat most of them but do give a few of them away; in the past few years my friend's grandma makes a ton of these cookies and stuff. We would do a little exchange with the cookies."  
There are some Christmas traditions that are created with friends and significant others. Natalie Togtman (featured in left photo)  started a bright tradition that takes place with her friends every year. 
"Something I have done with my friends or my boyfriend since I was sixteen, was going and seeing the lights at the Lincoln Park Zoo. The first time going there [Lincoln Park Zoo] was with my cousin and her girlfriend and every year since then I have gone," said Togtman. "That has always been such a fun tradition. It's out in the city, which is obviously nice, so we just go and do that."
Hallie Wolf's (featured in the top right photo) family's tradition is always a hit. No matter how many cookies she, her mother and grandmother make, they are always running out. Her brother and father are still trying to get a handle on how to make them. 
"My favorite Christmas tradition is making spritz cookies with my family. I usually make them with my mom, sometimes my grandma will come over and will do them. We do it the old fashion way, with the old fashioned press and we usually make green Christmas trees," said Wolf. "We'll use the Christmas tree cutter and dye the dough green and then we spend time decorating them. Sometimes my brother or my dad will come in and put sprinkles on them or try to frost them. It doesn't always turn out well, but they try."
Demetrous Nobles finds his holiday spirit by being able to set up a Christmas tree that always guarantees to put a smile on his family's face. 
"My family has never been very big on traditions, but if we had one it's pretty much the most generic one being the Christmas tree decorating," said Nobles. "Sometimes we would get a fake tree, sometimes we would go get a real tree. I would always get excited when we got a real one because those are much more fun. I would have my own ideas on how I wanted to decorate it. It wasn't until recent years that I would just decorate it myself. I would bust out the tree, put it up and decorate it myself; I have a lot of fun with it. Christmas tree decorating has got to be one of my favorite things to do because a lot of creativity goes into it and it's something that puts a smile on my family's face."
Christmas traditions are made to put us in a state of happiness and peace. Being with family and celebrating being with one another is what makes the holiday spirit. Whether that tradition comes from a cultural background or from the store, it creates a sense of togetherness and joy. The Arts and Entertainment writers are eager to begin their traditions once more and create amazing memories. With Christmas being around the corner, maybe these traditions can help put you in the Christmas spirit. 
The Torch Arts and Entertainment writers and I wish you all a Merry Christmas and a happy holiday.