World News
As Israel awaits Omicron confirmations, one likely case sparks cautious optimism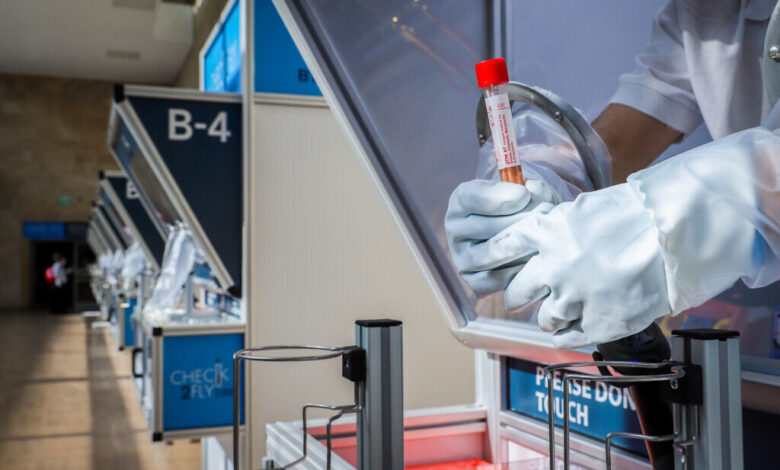 The number of Israelis officially confirmed to have caught the Omicron variant of the coronavirus is expected to rise significantly by the end of the week, pending results for four people who have reportedly already tested positive for the highly mutated strain once, as well as over a dozen more suspected cases.
But even as officials wait for the official results, which are expected to be confirmed, they are beginning to learn tentative lessons from at least one of the patients, who may have contracted the variant in the UK days before it was flagged in South Africa, and who apparently did not infect almost any of the dozens people he shared close quarters before testing positive.
The Health Ministry on Wednesday clarified that only two people in Israel have been confirmed so far to have contracted Omicron, contradicting Sheba Medical Center near Tel Aviv, which announced Tuesday that two cardiologists there had tested positive for the virus, adding another two cases on top of two women already confirmed to be carrying the strain.
The two doctors are still awaiting the results of genetic sequencing to confirm that they are carrying the new Omicron strain and not the Delta variant or any other version of the coronavirus that causes COVID-19, according to Channel 12 news.
The channel reported that another two people have also tested positive for Omicron from PCR tests, though no details were available about the two.
The Health Ministry statement Wednesday, which did not mention the doctors or the other two possible cases, said there are 17 suspected cases, as well as another 17 cases classified as "borderline suspect."
The ministry did not say what method it had used to determine if a patient is a suspected Omicron carrier, and its unclear if the Sheba doctors, whose story has drawn global attention, showed any more prevalent markers than the other 15 suspected cases.
Health authorities say Omicron, like the Alpha variant, is detectable via some PCR tests via a method known as S gene target failure, in which a certain telltale gene is missing. Studies have shown the S gene dropout, as it is also known, to be a reliable marker of the variants, though genetic sequencing is still needed to confirm the results.
"If you need to do sequencing to identify the variant you're always going to be lagged a bit and it's going to be more expensive. If you just rely on this S-dropout as identification then it's easier," said Trevor Bedford, a biologist and genetics expert at Fred Hutchinson Cancer Research Center.
One of the Sheba doctors, Elad Maor, told the Guardian he believed he contracted the virus in London, where he attended a conference from November 19 to November 23. If so, it would mean the variant was circulating in the United Kingdom days before South Africa first raised an alarm about the new strain.
"I got the Omicron in London, for sure," Maor told the Guardian. "That is interesting because that was 10 days ago in London – really, really early."
The UK paper said pictures from the conference showed many of the over 1,200 attendees not wearing masks.
I was interviewed today by @andrewgregory and told him more details surrounding me getting the #OmicronVarient.https://t.co/zaYW3mdwhr @SHEBA_ #COVID19 #CardioTwitter #MedTwitter @PCRonline

— Elad Maor (@maor_elad) December 1, 2021
Maor, who was vaccinated three times, said that he tested negative upon returning to Israel on November 23, but that he later began experiencing mild symptoms and was confirmed to have COVID-19 four days later.
"The only reasonable explanation is that I got infected on the last day of the meeting – maybe at the airport, maybe at the meeting," he said.
In the days between his return and his positive test, Maor performed procedures on 10 patients, shared a 90-minute car ride with a colleague, ate in a crowded cafeteria, attended a piano recital and had a large dinner with in-laws, he told The New York Times.
Yet the only person out of 50 in contact with him to test positive for Omicron was the colleague he was in the car with, making researchers optimistic that the variant may not be as contagious as feared, at least among vaccinated individuals.
His wife, who accompanied him to London, also did not test positive. "That's reassuring, I think," he told the Guardian. "I think the transmissibility of this [variant] is not completely different or extremely different to what I know about Delta."
Much remains unknown about the new variant that was first identified in South Africa, including how contagious it might be. It contains a large number of mutations that scientists say may make it more resistant to current vaccines than the currently dominant Delta variant.
The two infected women in Israel were a tourist from Malawi and an Israeli who recently returned from South Africa. A Health Ministry statement said the Malawian was inoculated with AstraZeneca's COVID-19 vaccine, while the Israeli received three doses of Pfizer-BioNTech's shot. No information was provided on their conditions.
However, experts say that vaccinated individuals confirmed to be carrying the mutation appear to have mild symptoms only. The vaccine has been proven to reduce the risk of severe illness and death, and researchers say it is reasonable to believe it will offer protection against the omicron variant.
In the US, which joined 23 other countries to report Omicron cases so far on Wednesday with its first confirmed case, California Health Secretary Dr. Mark Ghaly said the patient's mild illness "is a testimony to the importance of the vaccinations."
Jenny Harries, who heads the UK Health Security Agency, said that while there was still uncertainty in understanding the Omicron variant, officials hope that an expansion of a booster shot rollout will "to some extent counter the potential drop in vaccine effectiveness we might find with this variant."
Maor told the New York Times that his "mild" case included being bed-ridden for two days with a fever, sore throat and aching limbs, but he feared it could have been much worse.
"Despite everything, despite the vaccines and the booster, I was in bed for 48 hours," Maor said from isolation. "If I didn't have the vaccine, I probably would have ended up in the hospital."