Fitness
'Brewga' pairs frosty beverages with fitness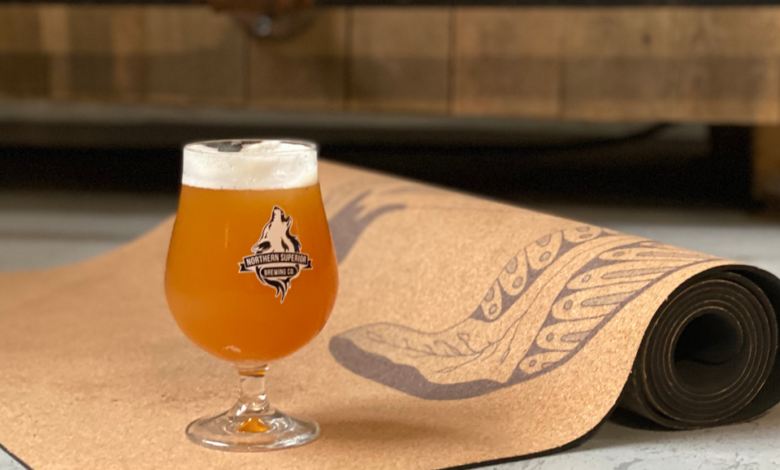 Also coming up this week is the Sault Theatre Workshop production of 'Miracle on South Division Street', and a variety of Christmas bake and craft sales, and holiday markets
With the last few scheduled Yoga and a Pint classes being cancelled due to the COVID-19, local yoga instructor Amélie Goudreau is happy to be able to host some upcoming classes under a new name, Brewga. 
Brewga classes will be held at Northern Superior Taproom on Sunday, Dec. 5 from 10 a.m. to noon, and Sunday, Dec. 19 at the same time. To register, click here and the cost is $30 each, including the pint. 
"The concept is still the same. You can come in by yourself or with friends and family and do an hour of yoga, followed by a pint of your choice. This is a great way to have fun while still maintaining social distancing and following COVID guidelines," Goudreau said. "There will also be canned mixed drinks available, in case people don't drink beer."
Yoga mats will be spread out six feet apart, masks will be worn while not doing yoga, and proof of vaccination will be required. 
"My biggest goal when it comes to teaching yoga is to make it accessible for everybody so it's just going to be a nice, gentle, lighthearted yoga class," Goudreau said. 
"Sometimes yoga classes can be intimidating but knowing that you're going to socialize, do some light yoga and enjoy a refreshing pint afterwards makes it more fun," she said. 
Goudreau says that it's important to incorporate yoga into your life because yoga is for everyone.
"You don't need to be flexible or strong, you can show up and be accepted as you are. It also makes you feel more calm and fulfilled, even when off the mat," she said. 
Miracle on South Division Street
Dec. 1-5
Miracle on South Division Street, a comedy play by Tom Dudzick, will be presented by the Sault Theatre Workshop starting this Wednesday, Dec. 1 and running until Dec. 5 at 121 Pittsburgh Ave. Due to COVID-19, capacity will be limited to 30 people to allow for more spacing. Proof of double vaccination will be required to enter. Cost for the play is $30 for adults and $20 for students. To reserve your seats, call 705-946-4081. 
Central United Church Bake Sale
Dec. 1
Central United Church is inviting you to stock up for the holiday season with their bake sale on Wednesday, Dec. 1 from 10 a.m. to 2 p.m. Christmas decor, crafts, clothing will also be available in the lower auditorium. Masks and social distancing will be required. 
Sault Handmade Virtual Christmas Market
Dec. 4
This Saturday, Dec. 4, shop virtually on the Sault Handmade Market Facebook page starting at 11 a.m. Local makers will post their items and shoppers can browse and comment "take" on products they wish to purchase. All items will then be delivered to your door with contactless delivery. 
Holiday Market
Dec. 4
The Sault Ste. Marie Metis Council is hosting their first annual holiday market this Saturday from 10 a.m. – 5 p.m at 136 John St. Check out the baking, crafts, gifts, beadwork, woodwork and more. All attendees will be entered into a draw for a prize.
Have an event coming up? Add it to our Community Calendar here.
Did we miss something? E-mail us at news@sootoday.com