Entertainment
SE: Nowell Providing Entertainment Off the Bench for K-State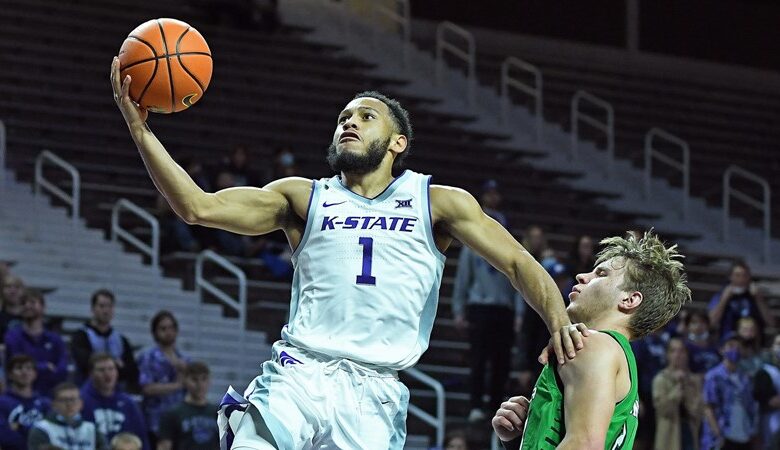 By:
D. Scott Fritchen
Sure, it's early. There's still a long season ahead. But as Kansas State men's basketball says goodbye to November and hello to December, one thing has become abundantly clear: Markquis Nowell is worth the price of admission.

 

It's difficult to nail down the last time K-State had such a unique player. Maybe Denis Clemente? Nowell just has personality. He calls himself "an entertainer." He's 5-foot-8, 160-pounds of muscle. He lifts weights with the big guys. One hobby includes launching a 50-pound medicine ball 20 feet into the air. That's what he did on the middle of the basketball court at K-State basketball media day in the Ice Family Basketball Center. He did it again and again and again. It echoed the basketball court. Boom. Boom. Boom.

 

Nowell let us know he was ready for business before he even opened his mouth.

 

K-State senior Mike McGuirl has seen enough. Nowell is rising to the top. And he's coming off the bench. He isn't a starter. Not yet, anyway. But he's a dynamic weapon. McGuirl sits in the postgame interview room and shakes his head at it all.

 

"Man, I can't even put into words how crucial he's been to this team, to building this culture that we're building right now," McGuirl says. "The energy that he brings every day is consistent. It's been huge. To have someone like that coming off the bench is amazing. It's big time in college basketball."

 

On the court, Nowell has cat-like quickness, he has handles, he has vision, he effortlessly shifts gears, and he usually delivers. He can drive Bruce Weber crazy when he launches the occasional 28-foot 3-pointer. He can drive the paint. He can glide baseline, switch hands underneath the rim, toss the ball high off the glass, and jog down the court as the ball trickles in. He can steal the ball. He can make the no-look pass.

 

He did all of this while scoring a team-high 18 points on 8 of 12 shooting, including 2 of 4 on 3-pointers, while also leading the team with 5 assists and 5 steals in an 84-42 victory over North Dakota on Sunday night in Manhattan. He played just 22 minutes.

 
"I told the coaches Markquis probably deserves to start," Weber says, "but for our team it's better for him to come off the bench. He gives us that dynamic scorer and playmaker off the bench."
 
People talk all the time about players who never take a possession off. It sometimes becomes cliché. But there is simply no off switch to Nowell. If there is, nobody has been able to locate it yet. No. 13 Arkansas couldn't find it. No. 14 Illinois couldn't find it. Nowell averaged a team-high 14.5 points on 45.5% shooting during the Hall of Fame Classic, including a season-high 19 points against the Illini on 7 of 15 shooting from the floor in the T-Mobile Center in Kansas City, Missouri.
 
Upon returning to Manhattan, Weber and his staff did some "tough" coaching with their players in the film room. They were disappointed. They thought they could've won both games. Instead, they lost each game by eight points.
 
On Saturday, Weber called Nowell into his office. He issued a directive of sorts to his up-and-coming star. He believed perhaps Nowell was trying to do too much.
 
"You can become a leader if you really want to," Weber told him, "but you've got to hold yourself accountable, which allows you to hold everyone else accountable. But if you're going to do undisciplined things and try to make your own plays you can't be a leader."
 
 
K-State, 3-2, faces Albany on Wednesday at 7 p.m. at Bramlage Coliseum. You might think thoughts could drift to Sunday's game with Wichita State or the home game with Marquette on December 8 in the BIG EAST/Big 12 Battle. But Albany will have all Nowell's focus. There's no skipping steps. And there's no peeking at the Big 12 Conference schedule, either.
 
"I know those games are going to be intense and high level," Nowell says, "but if I focus on getting better every day with my team and focus on the right things then down the line it'll be much easier, and I'll be able to focus more. The Big 12 is going to be here and I know it's approaching us slowly but surely. It's going to be a great time in Manhattan."
 
For him, every stage is a big stage. A chance to shine. A chance to entertain.
 
"He brings explosion to us," Weber says. "He's dynamic. He can really shoot the basketball, but he also has to realize that he doesn't always have to make a play. If we can get him to do that and be disciplined on defense (it'll help).
 
"He brings a unique dynamic to the team."
 
You might have heard the story. Nowell grew up in Harlem, New York. There were a few parks that he visited with his dad, sometimes two hours at a time, so young Nowell could work on his shooting technique and ball-handling skills. During one drill, Nowell made 25 shots in a row from long range. He was 10 years old. His dad told him that shooting was a big part of basketball, and that if he could shoot, he could make his dreams come true.
 
Nowell starred at point guard at Bishop Loughlin High School in Brooklyn and then at The Patrick School in Hillsdale, New Jersey — alma mater of Michael Kidd-Gilchrist (Dallas Mavericks) and Kyrie Irving (Brooklyn Nets). Then he began his college career averaging 14.4 points per game and ranked eighth-all-time in career made 3-pointers at Little Rock. He made 139 3-pointers. He also was their best free-throw shooter in history in shooting 85.7% from the stripe. He earned Lou Henson All-American and First Team All-Sun Belt honors in 2019-20.
 
Now Nowell, who has known K-State assistant coach Shane Southwell, a Harlem native, for years, is in Manhattan for two years. And so far, Nowell is making the most of every moment.
 
He's the Wildcats' second-leading scorer (12.8), leader in assists (16) and leader in steals (11). And he's an entertainer.
 
"When I say 'entertainer,' that's my style of play growing up in New York," Nowell says. "We're flashy. We play with a certain swagger about us, and I bring that over to K-State. I'm not only an entertainer; I want to be a winner and the end of the day. It feels good when you're able to do both."
 
He eclipsed 1,000 career points with his 10 points against the Razorbacks and then followed it up with a season-high 19 points while leading the Wildcats with 6 rebounds and 2 steals against Illinois. He now has 51 career double-digit scoring games.
 
And the show has just begun in the Little Apple.
 
"I'm grateful every day for the little things and big things in life, and for being able to be in this program with this type of culture and with this type of coaching staff and with these players, it makes me feel at home," he says. "It makes it easier to come in practice and play with that joy and come out here and play in front of these fans and show them what K-State basketball is about.
 
"I'm grateful every day to be in a K-State jersey and to play with these guys."