Sports
Rangers agree to deals with Marcus Semien, Jon Gray and Kole Calhoun ahead of potential lockout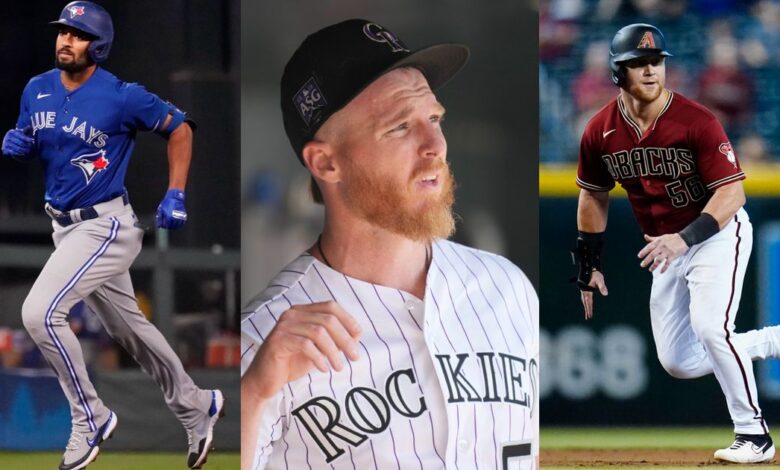 Editor's note: This story has been updated.
The Rangers entered the free agency shopping bazaar knowing three things: They had lots of money to spend, they needed lots of upgrades and it wasn't really important where the upgrades came.
Which is why Marcus Semien on Sunday became their portal to the greater free agency market.
The club, according to three sources, agreed to a seven-year deal with Semien Sunday afternoon. By 9 p.m., major league sources said they had two other agreements with starting pitcher Jon Gray and platoon outfielder Kole Calhoun. All three deals are pending physicals.
And with baseball's collective bargaining agreement set to expire at 11:59 p.m. Wednesday, there is a deadline to complete and announce the deal. If the sport goes into a lockout Thursday, it would freeze all transactions.
The Rangers will reportedly lavish $175 million on Semien, according to ESPN's Jeff Passan. The deal would be the second-largest in Rangers history behind the 10-year, $252 million deal the team reached with Alex Rodriguez in 2000. According to Passan, Gray will receive $56 million over a four-year deal. Calhoun's deal is a one-year, $5.2 million pact with a team option, per MLB.com's Mark Feinsand. In total, Texas has reportedly spent a combined $236.2 million on the three players.
President of baseball operations Jon Daniels and general manager Chris Young offered no confirmation or denials Sunday. Neither responded to requests to talk.
Semien, 31, finished third in the AL MVP voting earlier this month, the second time in the last three years he's finished in the top three. He also won a Gold Glove at second base, his first full season at the position after being traded from Oakland to Toronto. He had previously been a shortstop. And that's a perfect segue to this: He could play either for the Rangers, according to two sources.
It all depends on how much more money the Rangers invest and whether they are able to land another of the elite shortstops on the market. The Rangers have talked with Carlos Correa, Corey Seager and Irving's Trevor Story, the latter two mor. While Seager and Correa are expected to receive contracts each around or above $300 million, it's entirely possible the Rangers could wind up with both Semien and Story for the same cost. There were indications that perhaps both the Rangers and Seager were pivoting in different directions after some initial conversations. The Los Angeles Dodgers may renew their efforts to retain Seager.
What is clear: The Rangers were only getting started.
Perhaps the most important aspect of the Semien deal is this: They found a premier free agent willing to come to Texas after a 102-loss season. The first deal was going to be the most difficult. It could pave the way for more.
The Rangers did it by simply being willing to outspend the market. Most projections for Semien had a contract for him in the five- or six-year range at about $25 million per year. The average annual value of the Rangers' deal is right in line with that $25 million per year projection, but the seventh year took the total value well beyond the market. It also served notice that the Rangers are indeed serious about spending.
Others quickly noticed.
Calhoun, 34, would give them a left-handed hitting above-average defensive outfielder who could platoon with D.J. Peters or another right-handed bat.
Gray, 30, would them a veteran capable of eating innings to stabilize a young rotation. A Shawnee, Okla., native who attended the University of Oklahoma, he pitched 149 innings in 2021. He has pitched at least that many innings four times since 2016.
And there are still others even beyond another middle infielder. While outfielder Starling Marte reportedly agreed to a  four-year, $78 million deal with the New York Mets Friday, versatile Chris Taylor, Nicholas Castellanos and Michael Conforto were all still very much topics of conversation.
The first order of business, though, was sorting out the middle infield. If the Rangers sign Story, projected to get a deal similar to Semien's, or Seager, Semien could remain at second.
If the Rangers do add another shortstop, it could push incumbent Isiah Kiner-Falefa into a utility role or perhaps make him attractive to a team seeking a defensive upgrade on a shorter-term commitment. The New York Yankees might fit that profile. If they don't add another shortstop, there could be a discussion about how to best defensively deploy Kiner-Falefa and Semien.
It could also open the possibility of the Rangers entertaining discussions with other clubs about using 2020 first-round pick Justin Foscue as a potential trade chip to land young, established talent. Oakland, for example, has reportedly expressed a willingness to listen to offers for first baseman Matt Olson.
Semien has a career .256/.324/.444/.768 slash line with a career OPS+ of 110, 10 percent higher than league average. In 2019 with Oakland, he finished third in the MVP voting after an .892 OPS. But he struggled in pandemic-shortened 2020, hitting just .223/.305/.374/.679. Oakland elected not to offer him a qualifying offer and he instead took a one-year, $18 million deal with Toronto and agreed to move to second base. He responded with a career-best year, playing in all 162 of Toronto's games, hitting 45 homers and posting an .873 OPS (133 OPS+).
Toronto offered him a qualifying offer of $18.4 million after the season, meaning the Rangers are willing to surrender their second draft pick to sign Semien, per the current rules of the CBA. The rules regarding draft pick compensation could change when a new CBA is reached, but teams that sign players with qualifying offers attached before the deadline expect to forfeit a pick.
The Rangers did not intend to give up a draft pick when free agency started, but the market has moved faster than expected. It forced the Rangers to make a decision: Either keep pace or be passed by again.
They opted to both strike fast and leave other doors open.
High rollers
The Rangers deal with Marcus Semien will reportedly be worth $175 million over seven years. It will make it the second-largest free agent contract in total value in team history. A look at the five largest:
| Player | Total value (millions) | Years | Agent | Comment |
| --- | --- | --- | --- | --- |
| Alex Rodriguez | $252 | 2001-2010 | Scott Boras | Three last-place finishes before trade to Yankees. |
| Marcus Semien | $175 | 2022-2028 | Scott Boras | Gives Rangers middle infield upgrade and options. |
| Shin-Soo Choo | $130 | 2014-2020 | Scott Boras | A .363 OBP over 7 seasons with Rangers. |
| Adrian Beltre | $96 | 2011-2016 | Scott Boras | Best free agent deal in team history. |
| Chan Ho Park | $65 | 2002-2006 | Scott Boras | Worst free agent deal in team history. |
Find more Rangers coverage from The Dallas Morning News here.
Source link