Entertainment
Manchester senior remembers posing for Rockwell | Entertainment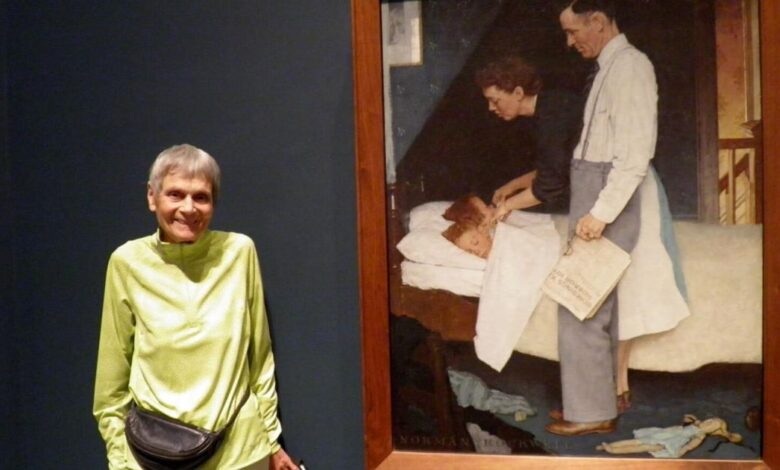 MANCHESTER — "He didn't care so much about the social stuff, but he did like to square dance, and he was good at it," said Marjorie Coulter about famed American painter and illustrator Norman Rockwell.
She would know: She was his subject and neighbor as a child.
Born March 14, 1934, the 87-year-old remembers her Arlington neighbor as down-to-earth — jolly, even.
She can't remember the name of the street they shared anymore. "We always just called it the back road. And it was," she said.
When she was 7, Rockwell recruited Coulter and her younger brother, David, to sit for "Freedom from Fear," one painting in a series of four. The set parallels the freedoms outlined in Franklin Delano Roosevelt's 1941 State of the Union address — freedom of speech, freedom of worship, freedom from want and freedom from fear.
The painting depicts a bedtime scene. A mother and father watch over their sleeping children, who they just tucked in. The man holds a copy of the Bennington Banner; the headline tells of bombings. It's as if Rockwell wants to acknowledge real causes for fear, while immortalizing freedom from it. It edges toward war propaganda.
But the experience wasn't as grand or political as all that for Coulter.
"We weren't too good at sitting long," said Coulter. Her mother, Clarice Squiers, hovered, flicking the children when they opened their eyes.
"We were pretty much on our best behavior," she explained, but said it was a feat for two small kids.
Rockwell had three boys of his own and understood the children's dilemma. He photographed the live models to complete the scene from pictures.
"He was very patient when he was posing you— I remember that," recalled Coulter.
She remembers Mary Rockwell — the painter's second wife — as similarly kind. "He put her in quite a few of his paintings. She was very compassionate. When my mother was sick and had to be in bed, she would come up in the afternoon with a book and would read to the three of us, my brothers and myself," said Coulter.
Coulter's mother had suffered an accident at 20 and broke her neck. There was a lot she wasn't able to do. While she isn't in "Freedom from Fear," Squiers did sit for Rockwell herself, and is visible in the upper right corner of "Freedom of Worship."
The Rockwells did what they could to help after Squiers' accident.
"They were very generous people, and when they went on vacation, they would bring their bicycles up and leave them with us and we would ride them all the while they were on vacation," she recalled.
And her mother's condition didn't limit Coulter's sphere to the home.
"I can remember my father saying, 'You know Marjorie, I have two boys. I don't need three.' I was like a boy, you know? I enjoyed my life," said Coulter. She remembers hiking the mountains with her brothers and the Rockwell boys.
They all skied, sometimes even got a ski day off from school. On those days, they'd make their way to Bromley Mountain.
She was also an avid horsewoman. Her father told her she could get a horse if she paid for the feed. "And I did it," said Coulter, proud even after all these years.
Her horse Chief also became a neighbor to the Rockwells.
"I never came home from school but what he greeted me. We had a really close bond," said Coulter.
Between Chief and her outdoor hobbies, Coulter remembers her childhood as one spent outside.
"I mean on rainy days, I might take my dolls out, but very rarely. Mostly I was out, you know, doing stuff," said Coulter.
One such rainy-day doll was Delicia, a toy fashioned after Gertrude Newman's 1935 "Story of Delicia: A Rag Doll."
Rockwell painted Coulter's childhood doll into the bottom right corner of "Freedom from Fear." It's the kind of charming detail he's known for.
She keeps a replica of the doll still.
With the holidays underway, Coulter is feeling nostalgic.
"We always liked Thanksgiving pretty well. We always had it at home. They'd always have a turkey, you know, and we'd always have Thanksgiving as a family," she said.
She shared her favorite memory of the illustrator and painter. 
"One time, a wealthy neighbor of ours threw a dinner party so she could introduce Norman to her other wealthy friends, but during the party he snuck off to go square dancing at the grange when no one was looking," recalled Coulter.
He loved to dance at the Arlington Grange, at what they called 'the green.' Every Saturday night, Coulter's parents and the Rockwells met there to dance — they were in the same set, the group of eight that forms a complete party in square dancing.
Dancing was a big part of their lives, Coulter recalls. It was how she met her late husband.
She'd just returned from exams in retailing at Green Mountain Junior college — now closed.
"I was saying to myself, I think I'll just stay home tonight. My mother said, 'Marj, you ought to go down to the square dance. You need to have a good time.' So I went," said Coulter.
And it's a good thing. She was standing on the sidelines when Jerry Coulter saw her. He immediately asked a friend of hers about "the tall girl" with her.
"And that was it. That was when we got together," said Coulter, who estimates it had to be the early 1950s. Jerry Coulter would go into heating and plumbing and start his own business. 
Now, Coulter lives at the Premier Assisted Living and Memory Care Community, Equinox Terrace.
Since modeling for Rockwell, Coulter has led a full life. She pursued her outdoor interests until late in life, worked at a gallery in Arlington speaking about her experience as a Rockwell subject, served as a bus driver for the Arlington school district and travelled with her husband and mother.
"We enjoyed life," said Coulter simply.