World News
Omicron variant may 'evade immune protection,' Fauci says. COVID news.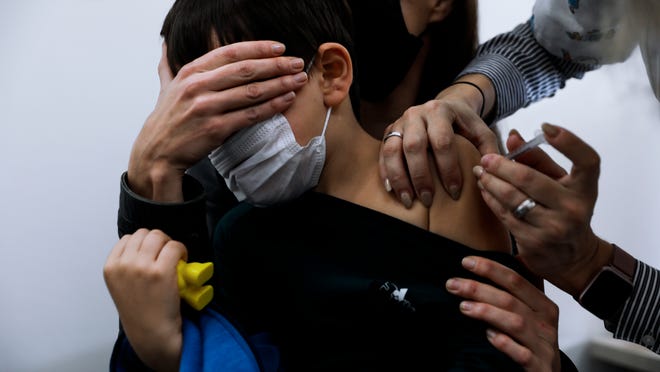 The omicron mutation of the coronavirus "strongly suggests" it is easily transmitted and might elude immunity protections gained by previous infections and even vaccination, Dr. Anthony Fauci warned Sunday.
"It's not necessarily that that's going to happen, but it's a strong indication that we really need to be prepared for that," Fauci said on "Meet the Press," adding that omicron " just kind of exploded" in South Africa.
Fauci, President Joe Biden's chief medical adviser, lauded the efforts of South African public health officials, who he said were completely transparent from the beginning. U.S officials were getting real-time information last week and continue to receive updates, he said.
Francis Collins, director of the National Institute of Health, told Fox News Sunday that it will take two or three weeks to tell whether antibodies from vaccines or previous infections will be effective against omicron.
"We expect that most likely the current vaccines will be sufficient to provide protection," Collins said. "And especially the boosters will give that additional layer of protection."
Collins and Fauci both said the troubling emergence of omicron is yet another reason for Americans to get vaccinated and obtain booster shots.
"Whether or not we're headed into a bleak or bleaker winter is really going to depend upon what we do," Fauci said. "So this is a clarion call as far as I'm concerned of saying let's put aside all of these differences that we have and say, 'if you're not vaccinated, get vaccinated. If you're fully vaccinated, get boosted, and get the children vaccinated also.' We now have time."
Also in the news:
►Ten preteens from across New York state have won the first round of college scholarships in the state's "Vaccinate, Educate, Graduate" contest for 5- to 11-year-olds who get vaccinated against COVID-19, Gov. Kathy Hochul announced Saturday.
►The Dallas Cowboys are going virtual with meetings leading into Thursday's game at New Orleans because of a rise in infections within the team. Right tackle Terence Steele was among the positive COVID-19 tests and won't play against the Saints, coach Mike McCarthy said Sunday.
►At least 161 Colorado companies and individuals who owed millions in back taxes still qualified for federal pandemic relief loans, a KUSA-TV investigation found. "Essentially, they're benefiting from taxpayer money without contributing to the system," said Tim Stretton, a director at the Project On Government Oversight.
►Swiss voters appeared set Sunday to approve legislation for a special certificate that lets only people who have been vaccinated, recovered or tested negative attend public events and gatherings.
📈Today's numbers: The U.S. has recorded more than 48.2 million confirmed COVID-19 cases and more than 776,500 deaths, according to Johns Hopkins University data. Global totals: More than 261.2 million cases and nearly 5.2 million deaths. More than 196.1 million Americans – roughly 59.1% of the population – are fully vaccinated, according to the CDC.
📘What we're reading: The message from the Arizona governor's office was adamant earlier this year: More than 2,000 applications for vouchers to move students out of schools with COVID-19 restrictions was clear evidence that Arizona families wanted school choice. The reality is much different.
Keep refreshing this page for the latest news. Want more? Sign up for USA TODAY's Coronavirus Watch free newsletter to receive updates directly to your inbox and join our Facebook group. 
Just as travel approaches normal, omicron could fuel bans
Air travel is approaching pre-pandemic levels, the United States just reopened to international tourists, and summer vacations to Europe were expected to soar in 2022. Then, in recent days, the emergence of the omicron variant instantly sparked restrictions on travel in some nations. The United States, which lifted a pandemic-long travel ban from dozens of international countries including South Africa on Nov. 8, on Monday will reinstitute the ban for foreign nationals from eight African countries. 
The CDC issued a level 4 advisory, its highest, because of "very high" COVID levels, which carries an "avoid travel" designation. The State Department, whose COVID advisories generally parallel the CDC's, also raised the countries to level 4, which means "do not travel."
"Amid this this rapidly evolving situation, it is critical that U.S. government decisions regarding international travel restrictions and requirements be rooted in science," said Carter Yang, spokesman for the airline lobbying group Airlines for America.
– Dawn Gilbertson
Netherlands, Australia report cases of omicron variant
The Netherlands confirmed 13 cases of the new omicron variant of the coronavirus on Sunday and Australia found two as the countries half a world apart became the latest to detect it in travelers arriving from southern Africa. Israel barred entry to foreigners and Morocco said it would suspend all incoming air travel for two weeks starting Monday – the most drastic of a growing raft of travel curbs being imposed by nations around the world as they scramble to slow the variant's spread. 
"Restrictions on the country's borders is not an easy step, but it's a temporary and necessary step," Prime Minister Naftali Bennett said.
Confirmed or suspected cases of the new variant have already emerged in several European countries, in Israel and in Hong Kong, days after it was identified by researchers in South Africa.
New York declares state of emergency amid surge, new variant
Gov. Kathy Hochul declared a state of emergency in New York amid a surge in COVID-19 cases and the looming threat of the omicron variant. The move by Hochul comes as hospitals are again warning of being overrun with COVID-19 patients and as the state's positivity hit 3.8% on Thursday, the highest since mid-April. In some regions, the rates were even higher: nearly 10% in western New York and almost 9% in the Finger Lakes.
Hochul said the omicron variant that has stoked fears of a new spread across the globe has yet to be found in New York, or anywhere in the U.S., but warned it is likely to arrive. By declaring a state of emergency, the state Department of Health will be allowed to limit nonessential, nonurgent procedures for hospitals or systems "with limited capacity to protect access to critical health care services."
– Joseph Spector, New York State Team
Contributing: The Associated Press