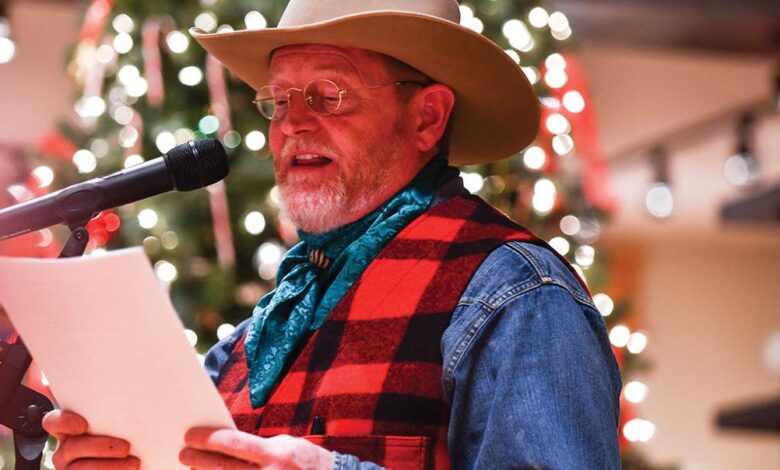 Twenty years ago, composer, lyricist and singer Steven Lutvak debuted at Carnegie Hall with Skitch Henderson and the New York Pops. Since then, he has performed to sold-out audiences around the country.
At Ucross, we were fortunate to meet Lutvak in 2004 when he was part of the annual Sundance Institute Playwrights Retreat at Ucross. Lucky for us, his arrival coincided with our acquisition of our first grand piano, purchased through a generous donation from one of our trustees at the time, now Wyoming Gov. Mark Gordon.
The piano arrived in the late afternoon, and only hours later, Steven Lutvak gave a memorable performance for Ucross staff and trustees, fellow artists, and neighbors. Among the attendees were Michelle Sullivan, David Romtvedt and Gov. Gordon. None of us would forget that magical February night, when we were introduced to Lutvak's songs, his wonderful voice and his entertaining stage presence.
Lutvak returned to Ucross over the years, working with his collaborator Robert Freedman on "A Gentleman's Guide to Love and Murder." (It opened on Broadway in 2013 and went on to win four Tony Awards, including Best Musical.) During those Wyoming visits, Lutvak performed once at Anne Pendergast's home and once again for the Ucross board. That time — also in the dead of winter — we hauled our second grand piano (donated by current Ucross Board Chair Jim Nelson) from the Ucross campus to Shady Lane Lodge, an Apache Corporation retreat.
What a joy it is that Steven Lutvak is returning to Wyoming to give a concert on Saturday, Dec. 4, at the WYO Theater's Mars Theater, as well as a master class at Sheridan College the day before. We hope you can join us; Lutvak's musical gifts and good spirits will help carry you through your busy holiday season.
There are other piano men we want to celebrate this season, too! Recently, Ron Krikac arranged the delivery of a glorious concert grand piano for our Raymond Plank Center. As many in our community know, Krikac has donated around 30 pianos to families and organizations in our region. Working with Ucross trustee Susan Miller, Krikac selected Ucross for the gift of a piano.
That piano is currently part of the studio space of several Ucross residents, composers Daniel and Patrick Lazour, and screenwriter Ritesh Batra, who are collaborating on a musical of the film "The Lunchbox" (written by Batra) to be presented by Lincoln Center in New York. It is wonderful that the Raymond Plank Center is coming to life as a creative space.
Finally, the piano will be a central part of our ninth annual Ucross Community Christmas Celebration on Saturday, Dec. 11. Ebenezer Eferobor, an internationally experienced composer who grew up in Lagos, Nigeria, and attended Sheridan College, will perform at the event. Currently studying in a master's program at the Jacobs School of Music at Indiana University, Eferobor has told us how important a sense of community is to him. We agree, and hope you will celebrate with us at this festive event, also featuring bestselling writer Craig Johnson, the Buffalo Balladiers and fireworks by Bruce Burns. See you there!
Sharon Dynak is president of Ucross Foundation.