Sports
Rays, Wander Franco Agree To 11-Year Extension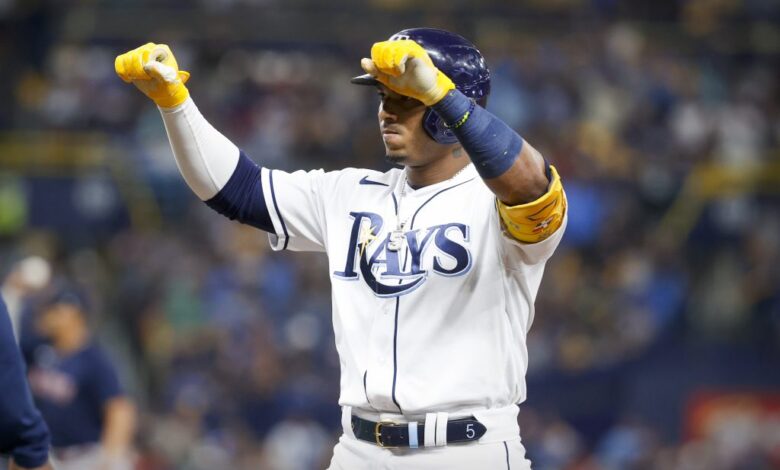 12:40pm: The final numbers on the deal are 11 years and $182MM in guarantees, Passan further tweets. There's a $25MM club option for a 12th season, and Franco has a series of $3MM escalators based on MVP voting that can max the contract out at the aforementioned $223MM level.
12:08pm: ESPN's Jeff Passan reports that a deal of 12 years and $185MM in guaranteed money has been agreed upon (Twitter link). The contract can max out at $223MM — presumably depending on incentives, escalators and/or an additional option year (or years).
11:42am: Joel Sherman of the New York Post tweets that the contract will be 11 or 12 years in length when it's finished. Hector Gomez of ZSports 101 in the Dominican Republic pegs the terms at 12 years and $223MM (Twitter link).
11:25am: The Rays and young shortstop Wander Franco are making progress toward an extension, reports Marc Topkin of the Tampa Bay Times. The deal in question would fall in line with last week's reported offer from El Caribe's Yancen Pujols; Topkin notes that the proposed contract is greater than 10 years in length and worth upwards of $200MM in total guarantees. A deal isn't finished yet, however, and final details may not be hammered out until after Thanksgiving.
Anything north of $100MM in guarantees will make Franco's contract both a record for the Rays franchise and also for any Major League player with under a year of service time. Ronald Acuna Jr.'s previous eight-year, $100MM contract is the largest ever signed by a player with less than one year of service, but it seems that Franco is poised to come close to doubling that record figure.
Franco, who won't turn 21 until March, ranked as the sport's No. 1 overall prospect in each of the past two offseasons and largely justified that hype when he debuted just months after his 20th birthday. The switch-hitter slashed .288/.347/.463 with seven home runs, 18 doubles, five triples and a pair of stolen bases through 308 plate appearances.
From July 25 to Sept. 29, Franco embarked on one of the more remarkable stretches in recent memory, reaching base in a staggering 43 consecutive games in spite of his youth. During that time, he posted a combined .329/.398/.545 batting line with more walks (9.1%) than strikeouts (8.1%). Franco only appeared in 70 games this season but was impressive enough to finish third in AL Rookie of the Year voting.
Because the Rays waited until late June to promote Franco, he was a veritable lock to fall shy of Super Two status under the current arbitration system (which could potentially change, depending on how collective bargaining talks play out). Franco wouldn't have been arbitration-eligible until after the 2024 season and would've had to wait until the 2027-28 offseason to reach free agency. A contract of 12 years in length would buy out all three of Franco's pre-arbitration seasons — during which he'd likely have made under $1MM apiece — and all three arbitration years. He'll then surrender at least six free-agent seasons, pending any opt-out clauses that could be baked into the arrangement.
Some fans will surely recoil at the notion of guaranteeing $185MM to a player with just 70 big league games under his belt, but those 70 games largely confirmed what the industry has expected from Franco since he signed for a bonus of more than $3MM as a 16-year-old: he looks the part of a budding superstar. And, a westward look toward San Diego shows what could happen by waiting to allow the player to further establish himself. Fernando Tatis Jr. didn't sign an extension until he had accrued two years of Major League service, and his price tag ballooned to 14 years and $340MM. Franco's price tag upon waiting might have extended even beyond that point and may well have become too sizable for the Rays' typically frugal ownership.
It's also tempting to ponder just how much Franco might be "leaving on the table," so to speak; free agent Carlos Correa has already pocketed $27MM in career salaries and is reportedly seeking a contract worth more than $300MM at the same age Franco would've been had he gone year-to-year. Extension rumblings surrounding fellow wunderkind Juan Soto have elicited speculation of $400MM or even $500MM in total guaranteed money; Soto is 23 and has three-plus years of MLB service.
Franco would find himself on a similar trajectory had he gone the year-to-year route, and one could certainly argue that betting on himself in hopes of setting an even more dramatic record was the more prudent path forward. That said, it's difficult to fault anyone for accepting this type of generational guarantee — particularly at such a young age. Generations of Franco's family will be financially secure, and he can still take heart in knowing that he's nearly doubled the previous precedent, thus further advancing the market for future players. Beyond that, because of his youth, Franco can still reach free agency as a 32-year-old, which is certainly young enough to hit the market in search of a second substantial contract.
The possibility of "leaving money on the table" also assumes good health and continued production from Franco moving forward. Taking the extension now mitigates much of the risk associated with a career-altering injury or injuries — a possibility that exists for any player. It also safeguards against Franco "merely" becoming a solid regular rather than a bona fide superstar (or, less likely, declining into a sub-par player). Promising as his beginnings were, he'd hardly be the first player to impress as a rookie before taking a few years to reach his ceiling.
Ongoing labor talks also have to be considered. It's possible the next collective bargaining agreement could have improved Franco's earning power, but it's also plausible that a new CBA might have hurt him to an extent; ownership has already proposed an age-based free agent threshold of 29.5 years, and while that particular number was a nonstarter for the players association (due to just this type of situation), the league could explore various permutations of the idea.
At the end of the day, any contract of this magnitude involves some give and take for both sides. Any number of things could've gone wrong for Franco in the years to come, and the looming possibility of those pitfalls underscores the fact that the typically small-payroll Rays are taking on what is, by their standards, an unprecedented risk.
It's often tempting to assign "winners" and "losers" in Hot Stove transactions — be they trades, free-agent signings or contract extensions — but there are also instances where a deal simply appears sensible for all sides. Franco receives a generational amount of money and retains the ability to reach free agency in his early 30s. The Rays secure control of a franchise cornerstone whom they hope and believe can be an all-time great. The players union surely approves of the precedent for players with under a year of service being moved forward substantially. There are positives for all parties involved on a contract of this nature.
Any and all instances of the Rays spending money bring about the typical comments wondering how long until the player on the receiving end of the deal is traded. Such barbs are justified, based on the Rays' history of trading extended players — e.g. Blake Snell, Evan Longoria, Chris Archer — but that's unlikely to be the case with Franco anytime soon. Extensions of this nature tend to mirror what the player might have earned absent the long-term contract; in other words, Franco may receive an up-front signing bonus, but his yearly salaries through the first six years figure to be considerably lighter than they will be in what would have been the free-agent portion of his contract.
More to come.