Fitness
Trying to get fit? These deals on fitness trackers will help get you to your goal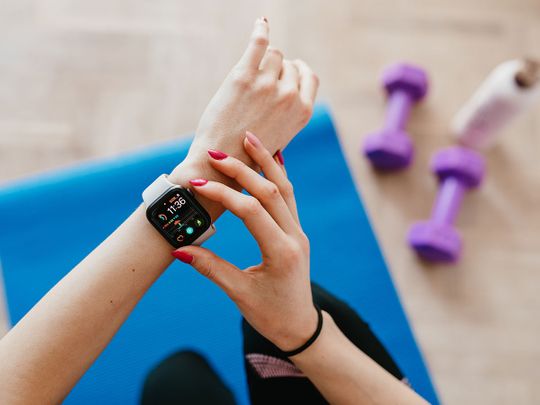 Are you taking advantage of the cooler weather to get healthier? Investing in a fitness tracker that monitors your activity will help you get to your fitness goals at a steady pace. The best fitness trackers don't just give you data, but crunch the numbers for you and let you know how to improve or adjust your workout routine to get great results.
These are especially helpful if you can't set definite timings to do some walking or stretching. A fitness tracker will 'nudge' to meet your daily step-count. Don't let your health go for toss while addressing your year-end tasks at work that require you to spend long hours in front of the screen.
Check out this list of the best fitness trackers available on Amazon, and get them with free, one-day delivery, if you are a Prime member.
1. Xiaomi Mi Smart Band 5
The Xiaomi Mi Smart Band 5 is a super cool fitness tracker that is effectively designed to monitor your heart rate, activity levels, sleep, stress and breathing. For a fitness tracker with advanced features, the price of the Xiaomi Mi Band 5 is very reasonable. It has a sporty feel to it and is lightweight and comfortable. Battery lasts up to 14 days, which means you don't have to worry about the device running out of charge soon. The waterproof fitness tracker can be worn while swimming or showering.
2. Fitbit Inspire 2
Fitbit is an industry leader in fitness tracking, so you know you're getting everything you need when you buy the Fitbit Inspire 2. It's water-resistant, and has over 20 exercise modes featuring the SmartTrack function, which detects what kind of exercise you're doing and automatically tracks it. The Inspire 2 also has a 24/7 heart rate monitor and scores your sleep. It's especially geared towards women, since they can track their monthly cycles and record symptoms while wearing the band. When you purchase the fitness tracker, you unlock a free, one-year Fitbit Premium program, which features step-by-step fitness and nutrition guides, personalised insights, sleep tools and lots more. What's more, it's battery can last up to 10 days without charging!
3. Polar M600 Fitness Tracker
If you're seriously looking to get fit, this tracker is going to help you meet your goals. The Polar M600 offers personalised guidance and feedback for training and daily activity through its unique Smart Coaching feature, by crunching the data for you so that you can focus on your next objective. It tracks all your workouts, steps, distance, calories burned and sleep, and allows you to listen to music, receive calendar notifications, read and reply to messages, and access a host of apps on Google Play.
Bonus: Buy it with 0 per cent installments and pay Dh49.58 for 12 months with select banks.
Warranty: Amazon offers a one-year extended warranty for Dh30 and two-year extended warranty for Dh38.
4. Xiaomi Mi Smart Band 6
With more than 60 built-in display faces and a 1.56-inch screen, the bestselling Xiaomi Mi Smart Band 6 is great value for money. The fitness tracker auto detects six fitness modes and has the capacity to track 30 different activities. It can even be worn while swimming, up to a depth of 50 metres. The band also features sleep, heart rate and SpO2 (or blood oxygen level) tracking and the solid performance of a 14-hour battery life.
Warranty: Amazon offers one-year extended warranty for Dh25 and two-year extended warranty for Dh35.
5. Huawei Honor Band 5 Smart Bracelet
Built like a fitness tracker, but with all the functionalities of a smartwatch, the Huawei Honor Band 5 allows you to get calls, text messages and emails. The tracker has a SpO2 blood oxygen monitor and 24-hour, real-time heart rate monitoring. And its TruSleep tracking technology uses Huawei's AI to provide over 200 tips to improve sleep even as it monitors sleep quality. The pedometer is compatible with connected GPS devices, so you get all the results you need while running or walking, with accuracy and analytics.
6. Qniceone Fitness Tracker
The Qniceone Fitness Tracker is a great choice if you are looking for a basic activity monitor that tracks your heart rate, blood pressure, sleep monitor calories and more. This almost waterproof fitness tracker can track over 10 modes of activities including swimming, cycling, running, walking and other gym workouts. Charging the fitness tracker fully takes up to an hour and lasts for around five to seven days.
Flaws that are not dealbreakers
This fitness tracker is waterproof for most part and can be worn while swimming, diving or taking a shower. However, the Qniceone Fitness Tracker is a no-go when it comes to hot tubs and steam showers.
7. Fitbit Charge 4
Make your fitness tracker go the extra mile with the Fitbit Charge 4, which has often been voted by reviewers as the best all-around fitness tracker of 2020. It's slimmer than its predecessor, with a longer battery life, and has great new features to track activity levels, like built-in GPS, heart rate zone notifications and compatibility with both iOS and Android devices. The tracker is comfortable to wear all day, which is necessary if you want to track your sleep, and it checks the boxes on tracking over 20 different activities, from cycling to swimming and yoga.
8. 24HOCL Fitness Tracker
An activity tracker with a great price tag, the 24HOCL makes sure it doesn't compromise on features. The fitness tracker measures your temperature, heart rate, blood pressure and sleep, and has a women's health assistant function that monitors your monthly cycles. Its 16 sports modes track multiple exercises, and its smart reminder functionality lets you keep up to date with your social channels, like Whatsapp and Instagram, along with text messages and calls. Its battery life lasts from 6 to 13 days!
Our recommendations are independently chosen by Gulf News editors. If you decide to shop through links on our website, we may earn an affiliate commission, as we are part of Amazon Services LLC Associates Program.