Fitness
IN HER HONOR: New Palo Pinto fitness center dedicated to Iris Stagner | Local News
PALO PINTO — A door opened across the street from the Palo Pinto County courthouse Wednesday on a fitness tool fewer than 8 percent of Texas counties can claim.
It was dedicated in memory of a woman who motivated her fellow county employees to strive toward healthy lives.
"She challenged us each to do better, be better and to live better," Deanna Copeland said of Iris Ann Stagner, who was one of the state's first county wellness coordinators and spent four of her 20-plus years as a Palo Pinto County employee guiding employees in fitness under the Texas Association of Counties ' Healthy County Wellness Program.
Stagner was fatally hit by a truck in 2012, but about 50 county workers celebrated her memory on Wednesday as members of her family cut the ribbon on the Palo Pinto County Employee Fitness Center.
"Today would've been her 64th birthday," said Copeland, who is the county's assistant wellness coordinator and was "really close" to Stagner and her husband, Butch. "She would love that Palo Pinto County is continuing to encourage its employees to be healthy."
Members of Stagner's family came from Mineral Wells to cut the ceremonial ribbon on the center.
"She would have loved it," her daughter, Felicia Harvey, said. "It's great that after nine years they still honor her."
A dream of Stagner's, the fitness center is paid for through the TAC wellness program, which rewards participating counties financially as employees reach certain health benchmarks like weight loss or smoking secession.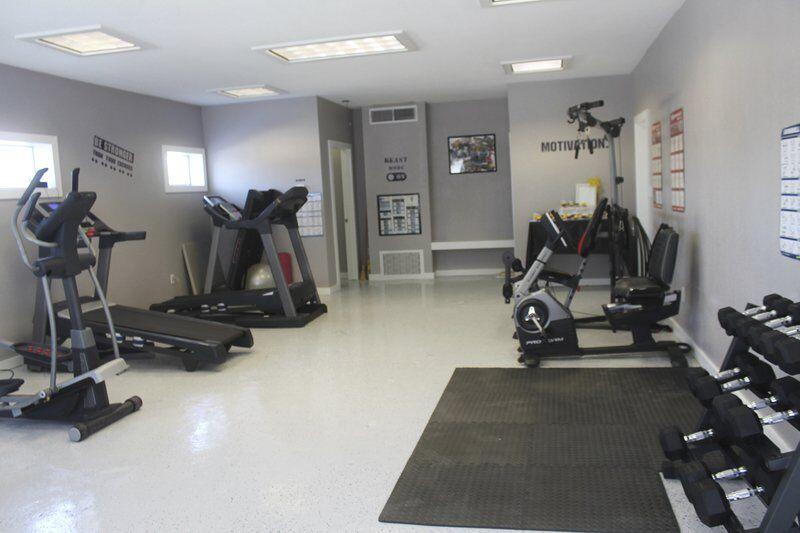 "NEVER GIVE UP," "BE STRONGER THAN YOUR EXCUSES," and similar phrases are painted on the walls of the former veterans service office, (which now is in Mineral Wells), above step machines, treadmills, a rower, hand weights and other equipment inside the room.
Shameria Davis, wellness coordinator for the Texas Association of Counties, said "less than 20" of the state's 254 courthouses have their own fitness center — which works to 7.87 percent.
The Palo Pinto center is open to only county employees, who have 24/7 access.
"Because we have jailers who work overnight shifts," Wellness Coordinator Angela Bryant said.
An inscription on the door dedicates the fitness center to Stagner's memory. The Texas Association of Counties also selects a county wellness coordinator for its Iris Stagner Award each year.
"And I hope county employees will honor her and try to be healthier and use this equipment, which is what Iris wanted," Copeland said.