Business
Dow Jones Futures: Market Rally Strong As Tesla, Rivian Run, But Watch For This; 3 Stocks In Buy Zones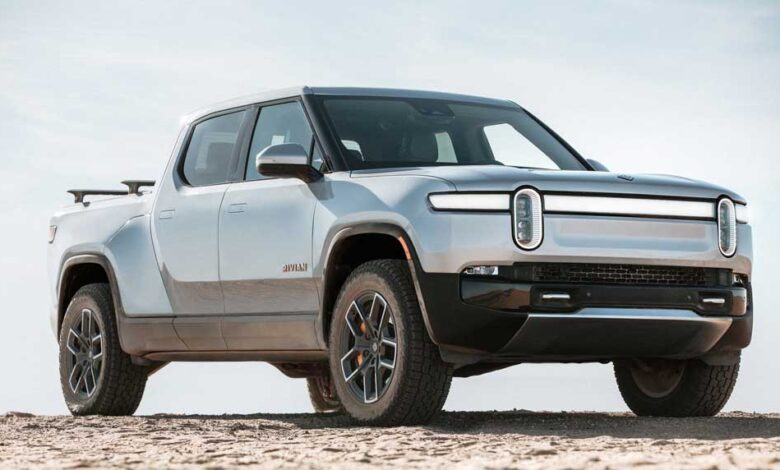 Dow Jones futures were little changed Tuesday night, along with S&P 500 futures and Nasdaq futures. The stock market rally had a solid session Tuesday, with the S&P 500 index and Nasdaq composite just below recent all-time highs.



X




EV stocks continued to be market rally hot rods. Rivian (RIVN) and Lucid Motors (LCID) continued to lead the way, but Tesla stock rebounded. Xpeng (XPEV) and Li Auto (LI) are actionable now.
Chipmakers and software stocks continued to do well.
Meanwhile, retailers are acting well, with HD stock and Lowe's (LOW) clearing three-weeks-tight patterns while Target (TGT) moved higher in a buy zone. Home Depot (HD) topped earnings views Tuesday morning while rival Lowe's and discount giant Target are due early Wednesday.
Meanwhile, President Joe Biden said he will announce a decision on his Federal Reserve chairman pick in about four days. That suggests a weekend announcement, giving financial markets time to mull it over. Most analysts see Biden either nominating Fed chief Jerome Powell for a second term or choosing Fed Gov. Lael Brainard.
Tesla (TSLA) is on IBD Leaderboard and the IBD 50.
The video embedded in this article analyzed On Holding (ONON), MSCI (MSCI) and Li Auto stock.
Dow Jones Futures Today
Dow Jones futures rose 0.1% vs. fair value. S&P 500 futures edged higher and Nasdaq 100 futures lost a fraction.
Remember that overnight action in Dow futures and elsewhere doesn't necessarily translate into actual trading in the next regular stock market session.
---
Join IBD experts as they analyze actionable stocks in the stock market rally on IBD Live
---
Stock Market Rally
The stock market rally continued to shrug off last week's brief pullback. The Dow Jones Industrial Average rose 0.15% in Tuesday's stock market trading. The S&P 500 index climbed 0.4%. The Nasdaq composite gained 0.8%. The small-cap Russell 2000 edged up 0.1%.
Among the best ETFs, the Innovator IBD 50 ETF (FFTY) rose 1.7%, while the Innovator IBD Breakout Opportunities ETF (BOUT) climbed 1.35%.  The iShares Expanded Tech-Software Sector ETF (IGV) advanced 1.1%. The VanEck Vectors Semiconductor ETF (SMH) gained 1.3%.
SPDR S&P Metals & Mining ETF (XME) slumped 1.9% and Global X U.S. Infrastructure Development ETF (PAVE) edged up 0.4%. U.S. Global Jets ETF (JETS) descended 2.4%. SPDR S&P Homebuilders ETF (XHB) advanced 1.9%, with Home Depot and Lowe's stock among the top components. The Energy Select SPDR ETF (XLE) inched 0.2% higher and the Financial Select SPDR ETF (XLF) dipped 0.1%.
Reflecting more-speculative story stocks, ARK Innovation ETF (ARKK) rose 1.2% and ARK Genomics ETF (ARKG) popped 2%. Tesla stock remains the top holding among ARK Invest's ETFs.
---
Five Best Chinese Stocks To Watch Now
---
EV Stocks Hot
Rivian stock raced 15% higher to 172.01, continuing to go vertical since its Nov. 9 IPO.  RIVN stock has more than doubled from the $78 offering price. Lucid stock spiked 24% to a nine-month high after touting a big jump in Lucid Air reservations since the end of September.
But both Rivian stock and Lucid are greatly extended from any buy point.
Xpeng stock rose 5.3% to 50, once again back above a 48.08 buy point and marking the highest close since January, according to MarketSmith analysis. Xpeng will unveil a new electric SUV at an auto show on Nov. 19. XPEV stock reports earnings on Nov. 23.
Li Auto stock jumped 9.75% to 32.76 moving toward a 34.93 handle buy point. But Tuesday's high-volume rebound from the 50-day line and breaking the handle trend line signal an early entry for Li stock. Li Auto, which makes the hybrid Li One SUV, will likely report earnings in late November.
Meanwhile, China EV and battery giant BYD Co. (BYDDF) rose 4.1% to 39.08, not far from record highs.
Tesla stock climbed 4.1% to 1,054.73, rebounding after falling 1.9% on Monday and more than 15% last week. Shares are back above their 21-day line, while the 50-day/10-week lines are racing to catch up. Tesla CEO Elon Musk's ongoing TSLA stock sales have weighed on the EV giant, which had gotten significantly extended from the 50-day line at its Nov. 4 peak.
Retail Stocks
HD stock jumped 5.7% to 392.33 Tuesday after better-than-expected Home Depot earnings. Rival Lowe's popped 4.2% to 244.78 ahead of its Wednesday morning report. Both cleared three-weeks-tight patterns, offering a place for existing holders to add a few more shares. But both Home Depot and Lowe's stock appear extended now.
Target stock rose 1.1% to 266.39 on Tuesday, even as rival Walmart fell modestly on its third-quarter results. TGT stock is still in range from a 262.61 cup-with-handle buy point cleared on Monday. But with Target earnings on tap Wednesday, investors may want to wait before taking a new position.
Market Rally Analysis
The stock market rally has erased nearly all of the recent short-lived pullback. The S&P 500 index and Nasdaq are right at record highs. The Dow Jones and Russell 2000 have a bit more work to do.
Leading stocks are acting well, especially in growth areas such as EVs, chips and software. But housing and retail plays are also acting well — especially housing-related retailers such as Home Depot — along with steel and many financials.
The downside to the upside is that the market rally is already getting close to being extended again. The Nasdaq composite is 5.6% above its 50-day line while the Nasdaq 100 is up 5.8%. That's not quite at the 6% level that starts getting worrisome, but there may not be much room for leading stocks to run before the market rally pauses or pulls back again.
---
Time The Market With IBD's ETF Market Strategy
---
What To Do Now
With the stock market rally getting close to extended again, investors may want to be cautious about substantially adding exposure, especially in growth names.
There's nothing wrong with letting your existing positions ride in a healthy market rally.
If you are going to add to your exposure, make sure to buy as close to the entry point as possible. That means being prepared. Build your watchlists and identify your targets ahead of time. Li Auto stock broke a trend line on Tuesday. Investors who had Li stock on their watchlists could have bought it Tuesday morning using the 21-day line or Friday's high of 31.35 as triggers.
This is definitely not a time to buy stocks that are extended, especially vertical EV plays such as Rivian stock.
Read The Big Picture every day to stay in sync with the market direction and leading stocks and sectors.
Please follow Ed Carson on Twitter at @IBD_ECarson for stock market updates and more.
YOU MAY ALSO LIKE:
Why This IBD Tool Simplifies The Search For Top Stocks
Want To Get Quick Profits And Avoid Big Losses? Try SwingTrader
Best Growth Stocks To Buy And Watch
IBD Digital: Unlock IBD's Premium Stock Lists, Tools And Analysis Today