Entertainment
Future Filmmakers program gives high schoolers a taste of moviemaking | Local entertainment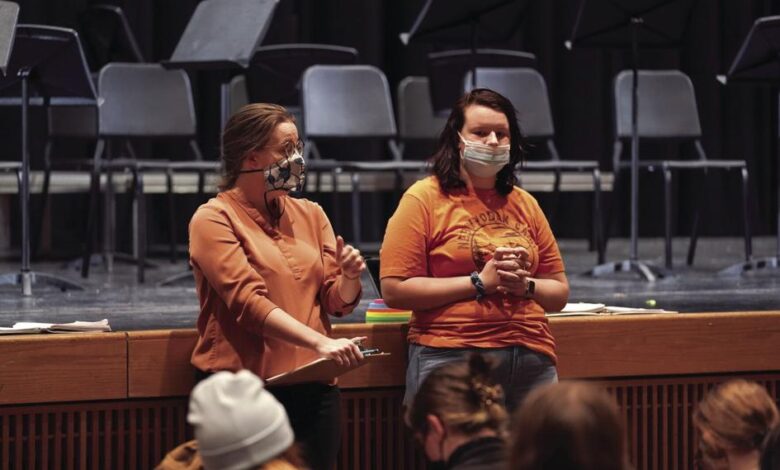 SHERIDAN — If the last century of filmmaking has taught us anything, it is that dreams can come true.
Sometimes, they come true by wishing upon a star or clicking your heels three times. But more often than not, they become reality through a lot of hard work and a few helping hands along the way.
Dana Wyatt, a former instructor at Sheridan Junior High School, has some experience helping dreams come true in that latter way. More than 28 years with Sheridan Junior High School's Panasonic Kid Witness News program, she taught multiple students the basics of filmmaking and helped them win 15 national awards and travel to Japan and Spain along the way.
Even though she's retired now, Wyatt knows there are still a lot of young filmmakers with unfulfilled dreams. That's why she collaborated with the Sheridan WYO Film Festival last year to create the Future Filmmakers program. After a successful pilot program last year, the program is set to launch its second session early next year.
"This is a chance for students to fulfill a dream at an early age and to experience filmmaking and explore all the possibilities it could lead to," Wyatt said. "It's a chance for them to create and tell their own stories and have people actually listen."
The keystone of the Future Filmmakers program is the screenwriting class in which each student creates and writes their own script, Wyatt said. While Wyatt is on hand to help students in person, the bulk of instruction comes via Zoom from Washington, D.C., filmmaker Nancy Bannon — a connection Wyatt made through the Sheridan WYO Film Festival. Along the way, Bannon also brings in some of her friends for master classes on diverse subjects ranging from acting to producing to editing.
All that knowledge is put to the test once the scripts are completed, Wyatt said. A couple of the best scripts will be filmed and eventually submitted to the 2022 Sheridan WYO Film Festival.
"Some of that instruction may go in one ear and out the other until they actually make their own films," Wyatt said. "They quickly learn that the knowledge applies to real-life situations and is really useful."
Wyatt said the program is a chance to develop a variety of skills — from writing to teamwork to problem-solving. It is also a chance to develop tight-knit friendships.
"The group becomes a close-knit family," Wyatt said. "Last year, one of the girls came out (as LGBTQ) to us. We were the first to know, and she eventually made her story about that experience. She just felt so secure and trusting with this group, which was great to see."
Wyatt said the second year of the program will be largely similar to the pilot, with a few alterations. Students will only film a few of the scripts — rather than all of them — due to time constraints, and Wyatt is working to have on-site editing software so students can edit their films during class at the WYO Performing Arts and Education Center.
Perhaps the biggest change is the partnership with the WYO, which will house the program and offer it under its WYO PLAY banner. Grace Cannon, the lead teaching artist for WYO PLAY, said the Future Filmmakers program fits nicely with WYO PLAY's mission. WYO PLAY is a series of educational programs aimed at engaging all age groups in creative, collaborative and playful artmaking.
"In Sheridan, there are several different opportunities for young people to get involved in theater or musicals, but when it comes to filmmaking, it is not super available for young people," Cannon said. "Young people are content creators naturally, and this program creates an opportunity for them to learn what filmmaking is as an artform and to be creative in an entirely different way."
The Future Filmmakers program will hold an informational meeting for interested students at the WYO Nov. 20 at 10 a.m. Students will have a chance to learn more about the program, hear from students who participated during the pilot year and see some of the films completed last year, Cannon said.
The Future Filmmakers program is accepting applications through Nov. 30. The class will be capped at 10 students.