Fitness
The Best Black Friday Peloton and Smart Home Fitness Deals 2021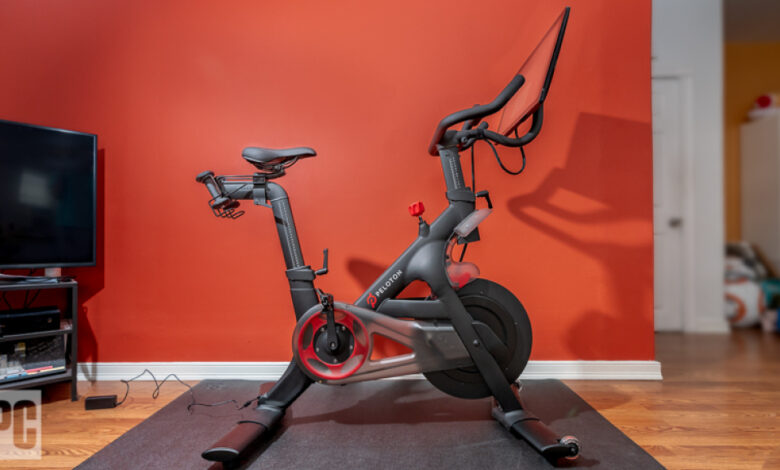 Last year, smart home gym equipment exploded onto the scene as many were stuck at home after their local gyms shut down or limited capacity. Although gyms are opening back up now, you can't beat the convenience of having your Peloton or weight machine in the next room.
Build up your cardio with stationary bikes, rowing machines, and treadmills. Or get the latest in smart fitness displays that help track and give feedback on your lifting. Ahead of Black Friday, check out these deals on subscription-based fitness equipment packages from Peloton, Echelon, MYXfitness, and more. We'll update this story as more discounts go live.
---
Peloton

Peloton Bike

Likely the most well-known brand on this list, Peloton is currently taking $400 off its classic Bike. This discount applies to all associated Bike bundles, like the Bike Essentials and Bike Works, which include extra accessories. The Bike itself measures 4 feet long by 2 feet wide, with a 21.5-inch 1080p HD touch-screen display to watch your instructor and keep an eye on your workout metrics. A resistance knob lets you adjust how hard you need to pedal.
With both live-streamed classes and on-demand videos, you're bound to find a workout that's right for you, whether it's something to help you work up a light sweat or high-intensity training. Of course, a $39/month membership fee is required to gain access to these classes.
---
Echelon
Echelon is known for its connected bikes and rowers, and there are several on sale for Black Friday, including the new GT+ Connect Bike with a $400 discount. Geared for recreational riders, you get 32 levels of magnetic resistance and performance tracking with compatible connected fitness apps like Apple Health.
Or check out the Echelon Row for $300 off, with a Bluetooth handlebar resistance controller allowing you to precisely adjust the amount of resistance for your workout. You'll need Echelon's $39.99/month membership that gives you access to Echelon's live and on-demand studio classes. You'll also have to provide your own smart device to watch these classes.
---
MYXfitness

The MYX II

For a limited time, MYXfitness is offering an extra $100 discount on The MYX II and The MYX II Plus and free shipping and assembly with Coupon Code TAKE100. With a $29/month membership, you get unlimited access to its workout library, with new workouts added weekly. The bike itself has a 21.5-inch HD touch screen as well as a 41-pound flywheel and mechanical-friction braking. In our review, we found the MYX to be an excellent and competitively priced Peloton Bike alternative that focuses on personalized heart rate zone training.
The MYX II for $1,299 with Coupon Code: TAKE100 (List price $2,580)

The MYX II Plus for $1,499 with Coupon Code: TAKE100 (List price $2,895)
---
NordicTrack

NordicTrack Commercial 1750 Treadmill

Best known for its treadmills and studio cycles, NordicTrack has both pieces of equipment on sale. Save $400 on the Commercial 1750 treadmill and get a 30-day iFIT Family membership when you purchase from Amazon. This treadmill has a built-in 10-inch HD touch screen that lets you stream on-demand iFITworkouts, while the SMART-Response motor allows you to train in several ways, whether it's HIIT workouts or endurance training.
Meanwhile, the Commercial S22I Studio Cycle has a $700 discount. Similar to the treadmill, the cycle has a built-in HD touch-screen display that's 22 inches, and you get the same 30-day iFIT Family membership. With 24 resistance levels and an improved incline and decline motor, you can adjust the bike to how you want to train.
---
Tempo

Tempo Studio

Looking for something other than cardio? Tempo is currently offering its new Tempo Move with a $100 discounted special introductory offer. It uses the same 3D Tempo Vision technology as the Tempo Studio to give feedback on your form and rep targets in real time. Plus, the Move can recognize the included smart weights to help track how heavy you're lifting and how many reps you're doing. Without the display as seen with the Studio, you'll need a TV or display and an iPhone XS/XR or newer to use the Tempo Move.
You can also save $500 on the original Tempo Studio with Coupon Code SAVEBIG. This 42-inch touch-screen display cabinet has built-in 3D sensors to track your form and reps. It also includes sets of dumbbells, barbells, plates, a heart rate monitor, and more, stored in the cabinet. Tempo requires a $39/month one-year membership for unlimited access to its classes and personalized coaching. In our review, we found the Tempo Studio is the best smart strength training machine we've tested.
---
Mirror
Another option for a smart fitness display is the Mirror, which is only $995 after a $500 discount and free delivery with code HOLIDAY21. Along with a $39/month membership with a one-year commitment, you get access to unlimited classes, both live and on-demand, for up to six users. A built-in camera and Mirror's proprietary algorithms give in-workout feedback and adjustments.
---
More Home Gym Equipment Black Friday Deals
---
Smartwatch and Fitness Tracker Black Friday Deals
Looking for a Deal?
Sign up for our expertly curated Daily Deals newsletter for the best bargains you'll find anywhere.
This newsletter may contain advertising, deals, or affiliate links. Subscribing to a newsletter indicates your consent to our Terms of Use and Privacy Policy. You may unsubscribe from the newsletters at any time.